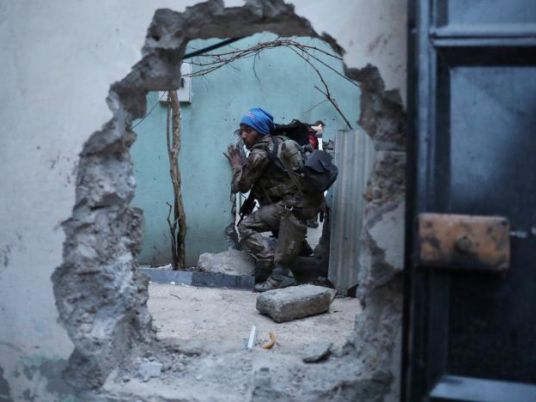 The North Sinai Tribes Union announced on Monday that a Palestinian Islamic State militant was killed amid ongoing clashes between prominent tribes in the governorate and the IS-affiliated Sinai Province.
The young Palestinian was killed in front of a militant stationing point in Rafah city while fighting against the Armed Forces and tribes, according to the Union's official Facebook page.
The militant, Ibrahim Dawood, was shot by a sniper rifle. Tribesmen found explosives and TNT hidden at the stationing point. The Palestinian militant came from the Gaza Strip to the Sinai Peninsula, a member of al-Tarbiyeen tribe said on condition of anonymity.
He added: "The killed militant is believed to be affiliated with the Hamas militia Kateb al-Qassam. A number of this militia are coming to the Sinai to join the IS militants here."
Through its affiliated media outlet Dawalt al-Haq, the IS group confirmed that the militant is Palestinian and his relation to the Hamas militia. The group added that many Palestinian militants will come to the Sinai.
"Ibrahim Dawood was killed in battle, aiming to impose Islamic authority over the Sinai Peninsula. He is from the Rafah city Palestinian subordinate. Many young people from the Gaza Strip, among whom are elite militants from the Hamas militia Kateb al-Qassam, are moving to Sinai to enforce Sharia law and support the Islamic State," reported Dawalt al-Haq media outlet.
This statement has raised questions as to whether the Gaza Strip can be considered a "source" of IS militants who are fighting the Egyptian army in Sinai.
Hamas is a Palestinian Islamic militia that holds power in the Gaza Strip and has engaged in violent clashes with the Israeli army against the backdrop of militant attacks.