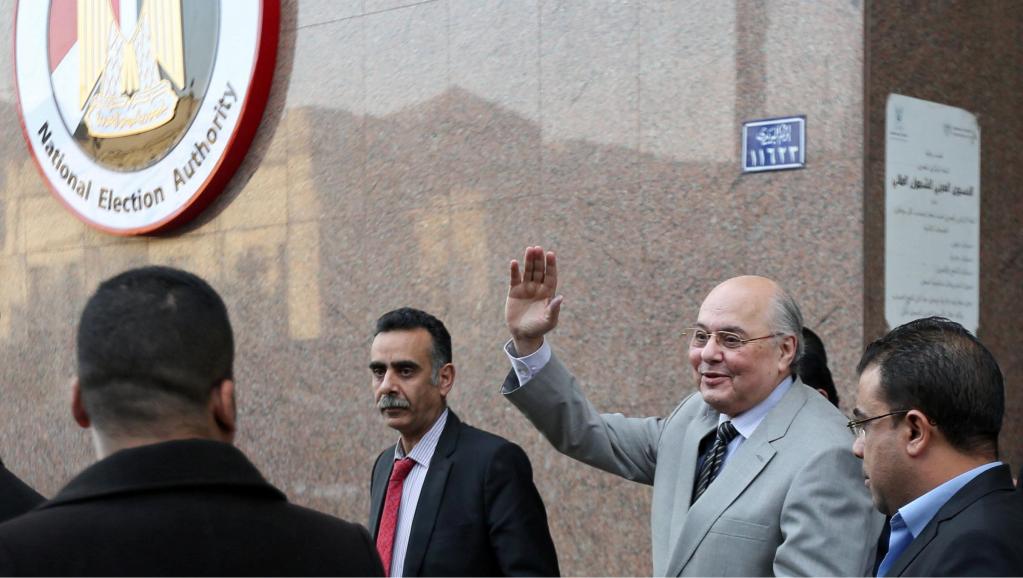 Presidential hopeful Moussa Mustafa Moussa declared that he does not mind changing the constitution to increase the presidential term from four to six years, as this would give Egypt's future president a chance to achieve more. In a somewhat different position, he also declared that he is against amending the constitution unless in dire need to do so.
The current presidential term in Egypt is 4 years, with a possibility of re-election for a second term.
In an interview 'Hona Al-Asema' program with Lamees al-Hadidy , Moussa also repeated that he refuses to have any kind of debate between himself and President Abdel Fattah al-Sisi, as he simply has a program while Sisi has a concrete history of achievements. However, he expressed his openness to answer any public questions.
He also added that a debate represents a challenge to the presidency and the current situation cannot afford anyone to challenge the president.
"I am not here to challenge the president," Moussa told Hadidy. "If I win that would be great, but I will not cause any problems."
Moussa also invited all Egyptians abroad to return to Egypt and stop attacking their country.
Finally, Moussa addressed the congratulatory statement that Mohamed Baradi issued for him on Baradi's twitter account, saying, "I do not know Baradi nor do I have a twitter account, and I am not sure if your congratulations is a real expression of your happiness or a subtle satire of the current regime."
As for his program, Moussa told Hadidy "my program will not include as many achievements as Sisi has accomplished so far, but it is a growth program, especially from a financial point of view."
However, Moussa said that his program would use Sisi's already existing achievements to achieve growth in only 6 months.
Another controversial statement Moussa made was declaring that if he wins the presidency he would honour Egypt's ousted president Hosni Mubarak, saying he cannot forget his role in the October 1973 war. The remarks came during an interview with Mohamed al-Baz on the '90 Minutes' program.
But the statement that was the source of ridicule for many was his promise to increase youth employment and promising LE18,000 as a monthly salary for the young, a promise which he then revoked.
Moussa, chairman of the Ghad Party, collected the minimum required endorsements of 20 members of parliament to run in Egypt's presidential elections, he told Al-Masry Al-Youm. He claimed that he also garnered the support of 40,000 citizens in various governorates.
Moussa is an engineer in addition to being a politician. He comes from a political family as his father was head of Wafd Party. He joined Ghad Party at the time when it was headed by Ayman Nour. They then had a fallout and Moussa ousted Nour, with Moussa going on to become the head of the party in 2011. However, he ran for parliament and was unsuccessful.
Moussa created two movements that supported Sisi: one was 'Kammel Gemeelak Ya Sha'ab' (Continue, Egyptian People), a campaign which asked for the election of Sisi in 2014, and another was 'Moyedoon' (Supporters), which he created in 2017 to support Sisi for re-election in 2018, where ironically, he is running against him as a sole competitor. However, in January Moussa withdrew his support for 'Moyedoon' after announcing he is running for presidency.
The Ghad party candidate submitted his candidacy papers in a haste after all possible contenders for Sisi were sidelined or arrested.
Rights lawyer and activist Khaled Ali announced his withdrawal from his presidential bid, citing authorities' violations of the democratic process.
He was followed by MP and Zamalek Sports Club Chairman Mortada Mansour.
In January, Egyptian authorities arrested former army Chief of Staff and presidential hopeful Sami Anan on charges of violating military law, forging official documents and inciting a split between the army and the Egyptian public. The National Elections Authority then declared him officially disqualified from running in the elections.
In early January, ex-Prime Minister Ahmed Shafiq, who had been in self-imposed exile in the UAE since he lost the 2012 presidential race, announced that he was backing out from his bid for the 2018 presidency.
Following the announcement in November 2016 by army colonel Ahmed Konsawa that he intended to run in the elections, an arrest warrant was issued against him for violating a military regulation stating that no serving army personnel is allowed to run for political office. He was then sentenced to six years in prison.
The Egyptian presidential elections are expected to take place between 26 and 28 March, 2018.