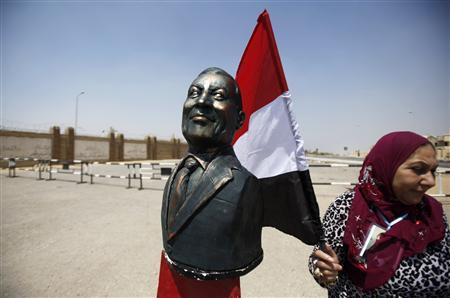 Alaa Mubarak, son of the late ex-President Hosni Mubarak, announced Saturday that his family is planning a lawsuit against the European Union to demand compensation for sanctions imposed on them about 10 years ago.
"Family of President Mubarak reserves the right to file compensation claims against the Council of the European Union in the right time," Alaa Mubarak wrote on his twitter account.
Alaa Mubarak was commenting on a court ruling issued by the European Court of Justice to lift sanctions it had imposed on Mubarak and his family.
"This decisive ruling is the conclusion of a legal battle that began about 10 years ago, with the imposition of sanctions on President Mubarak and his family on March 21, 2011," he said.
He also added that the court's ruling stipulated that the Council of the European Union pay all litigation fees.
The European Court of Justice on December 3 annulled sanctions imposed on Mubarak and his family members, involving freezing their assets.
The court found that "the [EU] Council did not fulfill its obligation to verify that the Egyptian authorities acted in accordance with the rights of the defense and the right to judicial protection of the appellants before relying on the decisions of those (the Egyptian) authorities in order to adopt the restrictive measures against those appellants."
According to the Court,"[t]he [EU] Council cannot conclude that a listing decision is taken on a sufficiently solid factual basis before having itself verified that the rights of the defense and the right to effective judicial protection were observed at the time of the adoption of the decision by the third State in question."
Following this decision, the family of the late Egyptian president will be able to dispose of their money in Europe.
In November 2018, the General Court of the European Union upheld the EU Council's decision to freeze the assets of members of the Mubarak family, on the basis of judicial proceedings relating to misappropriation of Egyptian State funds, but Mubarak's attorney and his family appealed the ruling.
And in November of this year, Egypt's Court of Appeals announced the approval of ending the decision banning the family of late president from access to their money, and called on the Central Bank of Egypt (CBE) to take the necessary banking and legal measures.
Former President Mohamed Hosni Mubarak died on February 25 after a struggle with illness, at the age of 92.
Mubarak ruled Egypt for 30 years until he was ousted on February 11, 2011 during an 18-day uprising, part of the larger Arab Spring.
Mubarak also previously faced charges of corruption, as well as charges of complicity in the killing of protesters during the uprising that led to his overthrow.
He was sentenced to life imprisonment in 2012 after a court convicted him of complicity in the killing of demonstrators during the revolution, but Mubarak was later retried and subsequently acquitted and released in 2017.