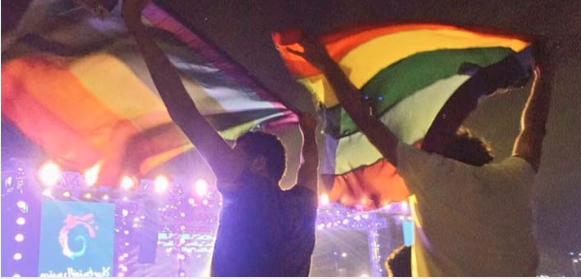 The Music Syndicate has banned Mashrou' Leila from performing in Egypt following Friday's Music Park concert where a couple of rainbow flags were seen flying during the band's performance in support of the LGBT community in Egypt.
The Deputy of the Syndicate of Musical Professions, Reda Ragab said in an interview with TV host Mahmoud Abdel Halim on Al Assema channel, that the syndicate decided to ban any upcoming concerts for Mashrou' Leila band.
"While the role of the Syndicate of Musical Professions is not repressive…we prevent such bands and musicians from getting on stage because they perform abnormal art," Ragab said.
Mashrou Leila, and Hamed Sinno (the band's male lead) in particular, are no strangers to being seen as "controversial" for their views as their lyrics regularly discuss issues like homophobia, sexism, politics, religion, social justice, and sexual freedom.
While the band has many loyal fans around the world, they receive great backlash for speaking about such taboo subjects and challenge the status quo. The controversy resurfaced last weekend when a couple of rainbow flags were seen flying during their performances, rousing disagreements on LGBT rights in Egypt.
Mashrou' Leila has been previously banned from performing in Jordan.
Last year,  Hamed took to social media to give a shout out to one of the fans at the show who came with a rainbow flag and raised it during their set. He expressed how proud he was and how much courage it must have took for that person to do such thing in Cairo.
Homosexuality is not illegal in Egypt. But in the late 1990s, the police stepped up the use of two old laws – a 1950 anti-prostitution law and a 1961 law against "debauchery" – to arrest and charge the practising LGBT community. The highest-profile action was a raid in Cairo in 2001 on the Queen Boat, a gay-friendly club on the Nile, where 52 men were arrested.