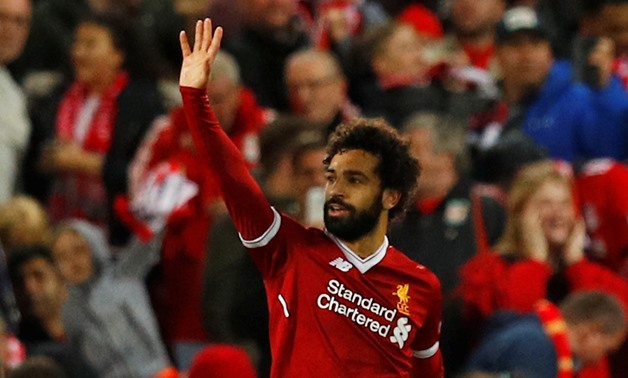 Egypt's Gouna Film Festival founder Naguib Sawiris announced that he will be naming a street in Gouna after Mohamed Salah, to show appreciation for the national football treasure.
In a red carpet interview at the festival's opening, Naguib told CBC Egypt that he made the decision after his brother, Samih Sawaris, suggested the pair name a street after veteran actress Yosra.
Naguib instead suggested naming one after Salah, "because our Egyptian icons have to appreciated. It's an opportunity that we have plenty of unnamed streets here."
Naguib added that he and his brother, ranked by Forbes as the two richest people in Egypt (2017), first considered the idea thanks to one of Naguib's Twitter fans.
"Mohamed Salah took Egypt's name to a whole new level abroad, so one of my Twitter followers suggested we name a street after him. I told Samih, he encouraged the idea, so we took Salah's permission to do it, and he said it would be his honor. But I told him the honor was all ours."
The telecommunications mogul and Free Egyptians Party founder also decided to reply to accusations of creating El-Gouna Film Festival with a personal agenda. "The only reason we have this festival is because we love Egypt, and want to make its people happy. There are no ulterior motives behind the move."
He added that he was happy with the festival's turnout so far, as it demonstrates gains in reputation and momentum, "The number of films that applied for this year's edition are 60 percent more than last year's. We've had sponsors who managed to cover half of the festival's expenses, after we did it all on our own last year."
"World renowned cinematic approached us to attend the festival this year – not the opposite, after last year we made a effort to make them come."
"When you prove yourself, and do something good, people are encouraged to come," he concluded.
The naming of a street after Mohamed Salah comes as part of a wave of appreciation for the star that has swept not only Egypt, but the world, after his rise to fame.
Back in March, a Turkish restaurant in Liverpool announced that they would give out free falafel dishes with every goal Salah scored.
Liverpool fans have made up numerous chants for the star, most notably the "Egyptian King" song.
And last Ramadan, a traditional lantern in the shape of Salah was a great hit in sales across Egypt.
Mohamed Salah rose to football fame between 2017 and 2018, displaying a spectacular season with Liverpool in the Premier League, leading his team to the UEFA Cup final for its first time since 1990, and being named the Top Scorer of Premier League, in addition to many awards, including the prestigious Golden Boot.
The player was a contender for the UEFA Men's Player Award, shortlisted with football greats Cristiano Ronaldo and Luka Modric.
Salah also became a national hero after singlehandedly carrying Egypt to the World Cup for the first time since 1990.
However, people's love for Salah comes not only for his incredible football skills but his renowned humility and great personality.
The star is known for taking part in charity work, and featuring in charity ads for free.
In August, Salah made the dream of a Syrian refugee, diagnosed with muscular dystrophy, come true as he visited him during the Reds' pre-season tour, in the United States.
On a larger scale, he donated 12 million Egyptian pounds to the 57357 Children's Hospital, for new equipment back in March, as well as LE 8 million to his home village.
This year's Gouna Film Festival, held between 20 and 28 September, will host three international stars: Sylvester Stallone, Owen Wilson and Patrick Dempsey.  The festival is presided by actress Boushra.
12 projects in development and 6 films in post-production will compete for awards worth over US$150,000.