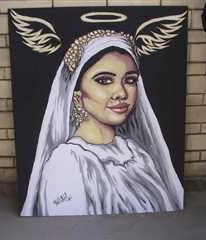 The mother of slain Mansoura University student Naira Ashraf said on Tuesday that her daughter can now rest in peace after her killer was sentenced to capital punishment.
Sana Saeed, Ashraf's mother, said that her daughter would be happy after the verdict.
"I felt that hers right were reclaimed by this ruling," she said.
During a telephone interview with the "Yahdoth fi Misr" (Happening in Egypt) program on MBC Misr Saeed said "We are happy with this ruling, and we feel that our fire has cooled."
"I thank everyone who has done charitable work for my daughter, including alms and donations."
Khaled Abdel-Rahman, attorney for Ashraf, praised the speedy verdict on her killer, adding: "We did not expect that Naira's right returns today."
During a telephone interview with TV host Ahmed Moussa on the privately owned satellite channel Sada al-Balad, Abdel-Rahman praised the Minister of Justice and the Prosecution General for moving the case quickly.
He added that if there was no speed in the trial procedures for the murderer, there would have been a victim every day, stressing that the crisis goes beyond Ashraf's case.
Abdel-Rahman likened the killer of the Mansoura student to militants of the Islamic State in Sinai.
The Mansoura Criminal Court on Tuesday sentenced the murderer of Naira Ashraf to death by hanging.
It referred the death sentence of the defendant to the Grand Mufti Shawky Allam for approval.
The court set the session for July 6 to read the final verdict.
A referral to the mufti is required in the Egyptian court system ahead of death sentences, even though the mufti's opinion is advisory, not binding.
The Public Prosecutor referred the defendant Mohamed Adel on Wednesday to trial before to the Criminal Court over charges of premeditated murder of Ashraf.
The referral decision came 48 hours after the accident.
This was in coordination with the competent court of appeals and the first court sessions were set.
The Public Prosecution had established evidence before the accused from the testimony of 25 witnesses, including students, university security personnel, and shop workers in the vicinity of the incident.
The victim's family and friends also testified that the defendant used to harass and threaten the victim with harm because she refused to marry him after he proposed to her, and he tried more than once to force her to do so, which led them to report him to the police.