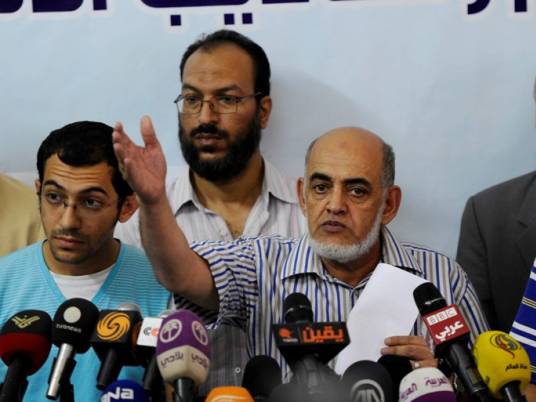 The National Alliance to Support Legitimacy called for protests against the judicary to denounce the rulings issued against Islamist leaders.
"The judges of repression are issuing oppressive rulings against the rebels under a null law that will reach its demise," a NASL statement read Saturday. The upcoming demonstrations will represent a new wave of struggle against the coup authorities, according to the statement.
The NASL called on protesters to continue the revolutionary movement in governorates against the "looting and theft" carried out by coup authorities.
The statement stressed this week would be decisive against "those who assaulted the popular and legal legitimacy."
"The regime's continued use of security solutions against its opponents will not prevent them (the protestors) from organizing events to reject its policies," Youth Against the Coup movement coordinator Ahmed Abdallah told Al-Masry Al-Youm.
"The killings and arrests increases feeling of retribution and revenge," he added. "We have prepared plans to exhaust the [security] in various squares and we will not tolerate the systematic oppression and terrorism against us," Abdallah said.
"The next revolutionary escalatory wave will start on Friday, 25 April, corresponding with the anniversary of the liberation of Sinai on Thursday and Labor Day on the 1 May," said NASL leader Mahmoud Fatehy on Facebook.
Fatehy called for spreading awareness among the lower classes and laborers of the "reality of discrimination and oppression they suffer under the rule of military traitors and neo-feudals."
"This is a historic opportunity for a popular awareness campaign with the most marginalized and subjugated classes in our country," Fatehy wrote, describing the military leaders as the "new Mamluks."
Hundreds of Muslim Brotherhood members were referred to trial and many were convicted over violence that erupted after the ouster of President Mohamed Morsy in July 2013.
Edited translation from Al-Masry Al-Youm