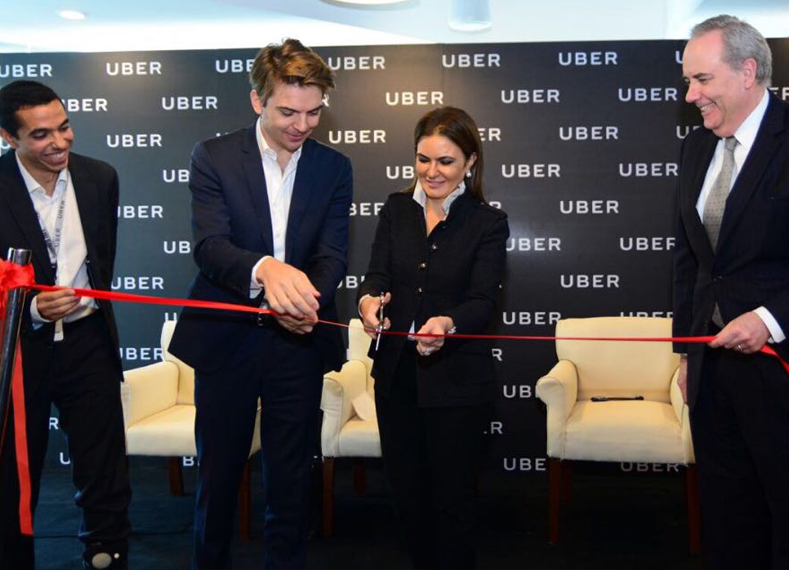 Egypt's Minister of Investment and International Cooperation, Sahar Nasr, inaugurated the first Uber Center for Distinguished Services in Cairo in the Middle East region, with investments worth $20 million
The inauguration was attended by the US Embassy's Chargé d'Affaires, Thomas Goldberger, Uber's Vice-Chairman and Regional General Manager for Europe, the Middle East and Africa Pierre Dimitri and General Manager of Uber in Egypt Abdellatif Waked as well as several MPs.
Nasr toured and commended the new center which will provid over 700 direct job opportunities for Egyptians, she emphasized her keenness on broadening Uber's activities to include the mass transportation sector nationwide and on developing the company in the transportation field during the upcoming period.
Nasr indicated that her ministry was keen on providing an adequate business climate and legislative reforms that guarantee the injection of new investments by the private sector and providing job opportunities to youth as well as better services to citizens.
As for Uber, the company said that the center is considered the first of its kind in the Middle East and Africa, in addition to being a key factor in supporting clients in the region and the main source for surveying their opinions  quality service assessments.
Uber said that in past three years they have enabled thousands of people to increase their income and improve their standards of living. The company has employed 30 percent of its total staff as specialists to work at the center.
Uber's Vice-Chairman and Regional General Manager for Europe, the Middle East and Africa, Pierre Dimitri, emphasized his company's commitment to Egypt through providing investments worth over $20 million during the five upcoming years, so as to render Egypt a hub for clients in the MENA region.
He pointed out that the Egyptian market was regarded as one of the fastest-growing markets for Uber.
"Supporting customers is our priority and we have confidence that choosing Cairo as a headquarter for our center is the key to providing drivers and passengers with the best possible services," he added.
Edited Translation from Al-Masry Al-Youm