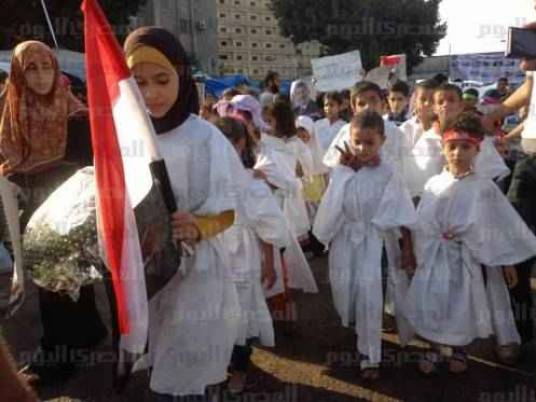 Secretary general of the National Council for Childhood and Motherhood Nasr al-Sayed said at a conference on Friday that the council appealed to local, Arab, and international media to prevent the exploitation of children in demonstrations and conflicts.
Sayed said: "Children were used as human shields in all demonstrations demanding the return of toppled President Mohamed Morsy during the current month and put on top of coffins."
"We have information that the children were brought from one of the orphanages in Nasr City."
Sayed said children were used during the Ramses Square and October 6 Bridge violence and that two children were locked inside Fatah Mosque for over 12 hours with other protesters.
Sayed said that the media circulated a photo of a child who had "I am Hamza: a probable martyr" written on his T-shirt. Sayed criticized the incident saying the child's mother was killing her son's innocence.
Sayed pointed out to other incidents of violence against children saying they bring hatred and violence into the hearts of children instead of love for their land and army.
Sayed called on international organizations to denounce such acts, noting that UNICEF was the only organization that issued a statement on the political exploitation of children in Egypt.
Sayed showed a video during the conference of children at the pro-Morsy protests carrying coffins and singing "We are all probable martyrs."