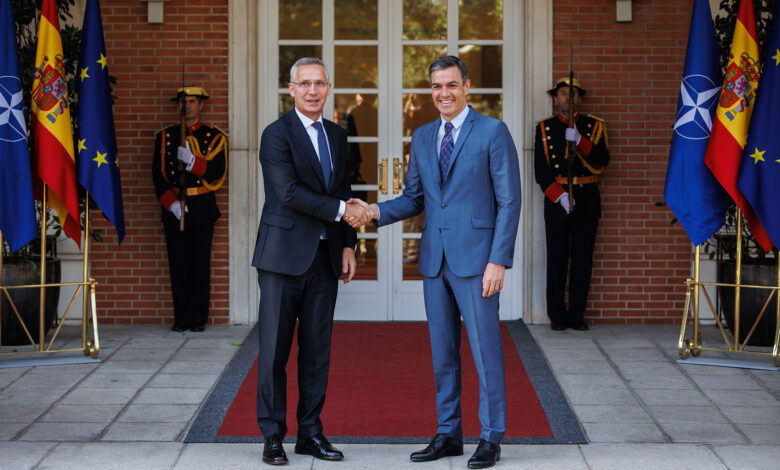 Members of the NATO military alliance are preparing for the organization's latest summit from June 28 to 30, with the war in Ukraine top of the agenda.
Ukrainian President Volodymyr Zelensky has made repeated calls for greater support to face down Russian attacks in the Donbas region in eastern Ukraine – and will be hoping to secure promises of more weapons supplies for Ukraine from NATO states.
The summit will take place in Spain's capital, Madrid, as the country is this year marking 40 years since it joined the alliance.
At a ceremony to mark the anniversary on May 30, Spanish Prime Minister Pedro Sanchez said that NATO's support for Ukraine was "unbreakable."
Speaking at the same event, NATO Secretary General Jens Stoltenberg looked ahead to the June summit in what he described as a "very different context" from the last NATO summit that Spain hosted in 1997.
"These challenge our security and our democratic way of life at the Madrid Summit. We will chart the way ahead for the next decade. We will reset our deterrence and defense for a more dangerous world," Stoltenberg said.
"We will deepen our cooperation with like-minded countries and organizations, including the European Union and countries in the Indo-Pacific," he added. "We will also be joined by Finland and Sweden that just made historic applications to join our alliance."
Further weapons supplies to Ukraine will likely be on the agenda at the meeting, after Stoltenberg underlined why Ukraine must continue to receive support.
If Putin wins the war, then "the price we have to pay would be higher than to now invest in support for Ukraine," said Stoltenberg on June 1.