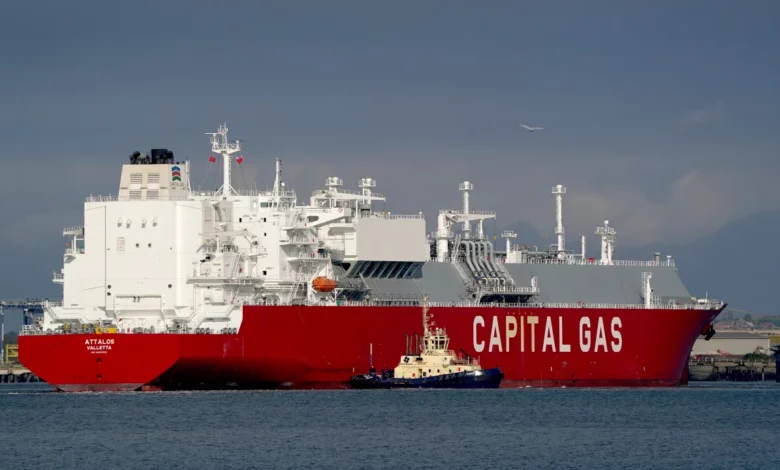 London
CNN
 —  Natural gas prices have spiked again this week, just as Europe prepares for the heating season.
The price of Dutch natural gas, the European benchmark, has jumped 24 percent to €40 ($44) per megawatt hour since Tuesday on news of potential industrial action at liquefied natural gas (LNG) plants in Australia. US natural gas prices have climbed 18 percent so far this month.
The Offshore Alliance, which represents two Australian labor unions, has taken steps toward strike action at Chevron (CVX)'s Gorgon and Wheatstone LNG sites, Brad Gandy, a spokesperson for the alliance, said in a statement. The unions' demands include better job security and training, and higher pay.
In addition, the unions' members on offshore gas platforms in the North West Shelf region, owned by Woodside Energy Group, have voted overwhelmingly in favor of strikes, the Offshore Alliance said on Facebook.
If the strikes go ahead, as much as 10 percent of global LNG production could be shut down, according to Tom Marzec-Manser, head of gas analytics at ICIS.
"Even though Australian LNG hardly ever is shipped to Europe, the loss of the supply would cause a domino effect," he told CNN, noting that Asian buyers who would be left short would pull cargoes away from Europe.
After Russia — once Europe's biggest gas supplier — invaded Ukraine last year, the continent raced to find new sources of the commodity, ramping up imports of pipeline gas from Norway and of LNG, mostly from the United States and Qatar. Europe's success in filling the gap left by Moscow has helped pull natural gas prices down from a record high of around €300 ($331) per megawatt hour hit in August last year.
'Bidding war' for US gas?
Bill Weatherburn, commodities economist at Capital Economics, said that if Australian LNG exports were disrupted, Asian and European buyers could find themselves "in a bidding war" for cargoes.
"As much of the spare LNG supply comes from the US, natural gas prices there have also jumped higher," he added.
The sudden rise in gas prices follows a recent run-up in oil prices, driven by production cuts by major exporters such as Saudi Arabia and Russia. Brent crude, the global benchmark, is now 21 percent higher than on June 27, and hit its highest closing level since November Wednesday.
The spike in the price of European gas shows how dependent the region is on global LNG markets now that the European Union has largely stopped importing gas from Russia, Weatherburn told CNN.
But the chances of a full-blown energy crisis appear lower than a year ago. According to Marzec-Manser, European demand for gas remains "structurally low" and storage facilities in the region are particularly well-stocked for the time of the year.
Moreover, the risk of prolonged strikes "seems relatively low," said Massimo Di Odoardo, head of global gas analysis at Wood Mackenzie.
"Governments in Asia — Japan in particular — and Europe would put pressure on the Australian government to help facilitate a solution, given the market implication," he told CNN.
A Chevron spokesperson said: "We will continue to engage our employees and their representatives as we seek outcomes that are in the interests of both employees and the company."
CNN has also contacted Woodside for comment.
The company told Reuters it had engaged "actively and constructively" in the bargaining process with unions.
— Hilary Whiteman in Brisbane contributed reporting.