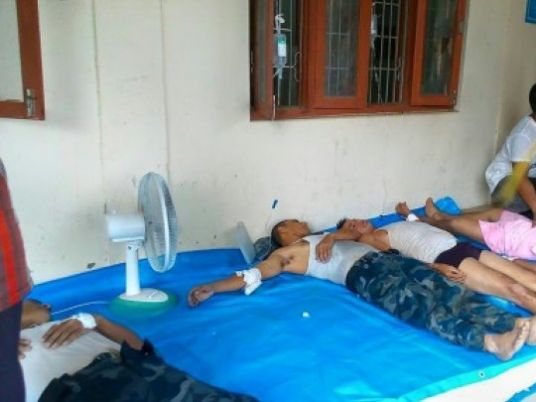 Hundreds of security personnel patrolled a tense town in western Nepal Tuesday after an 18-month-old boy and seven police died in violent protests against a new constitution.
The government deployed the army and announced an indefinite curfew in parts of Kailali district, a day after protestors attacked police with spears, axes and knives and also the home of a paramilitary officer, killing his son.
The boy's father, Netra Bahadur Saud, told AFP he was sitting on his porch when protestors fired at him, killing his 18-month-old son.
"My son was playing in front of me, all of a sudden I heard bullet fire," Saud said.
"Within seconds my son fell to the ground with head injuries… I rushed him to hospital but he was already dead.
"The shooters targeted me… my son was innocent. Why was he killed?" he said.
Anger has been building for weeks in parts of Nepal after lawmakers struck a breakthrough deal on a new constitution, spurred by April's devastating earthquake.
The constitution was meant to draw a line under centuries of inequality, but plans to divide the country into seven provinces have sparked fury among historically marginalized communities, who say the new borders will limit their political representation.
The latest clashes broke out in the town of Tikapur, 420 km (260 miles) west of Kathmandu, when activists from the Tharu ethnic minority held a protest to demand their own separate province.
The Tharus have struggled to overcome decades spent as bonded slaves to high-caste landowners.
Officials in Kailali said more than 40 security officers were wounded in Monday's clashes, but gave no details of casualties among the demonstrators.
"The situation is calm for now, hundreds of police and army personnel have been deployed in the area," said Nepal police spokesman Kamal Singh Bam.
"The death toll from yesterday's street clashes is seven officers," Bam told AFP, revising earlier figures that counted eight fatalities among the security forces.
"Nepal's government is squarely to blame for its failure to engage with the local community and address its concerns, which led to this horrific escalation," said Brad Adams, Asia Director of Human Rights Watch, in a statement.
"The government needs to take immediate steps to restore order and prevent retaliation by the police."
District officials said no further clashes were reported overnight.
Work on a new national constitution began in 2008, two years after the end of a Maoist insurgency that left an estimated 16,000 people dead and brought down the 240-year-old Hindu monarchy.