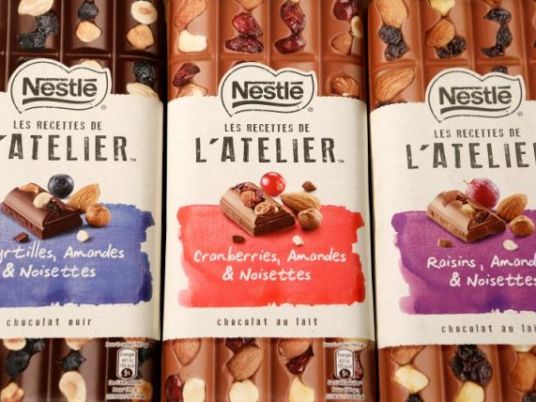 Nestle (NESN.VX) is pushing ahead with plans to invest LE1 billion Egyptian (US$127.71 million) in Egypt in the next few years, despite a foreign exchange shortage that has made it harder to finance imports and repatriate profit.
Yasser Abdul Malak, Nestle's CEO and chairman for North East Africa, said business had grown despite the challenges as the food group makes 70 percent of its products locally and has managed to finance imports because essential foods are prioritized by banks allocating precious dollars.
"It is a daily battle for foreign currency, it is day in day out an uphill battle but with all this and the business model that we have and the categories that we operate in we have managed to continue to grow," Abdul Malak said.
"We will also in the coming years…invest similar to what we have in the past – LE1 billion."
Despite the political turmoil that has rocked Egypt since a 2011 uprising, Nestle has expanded, opening a chocolate factory in mid-2014 and doubling its employees to 6,500.
The conflict in Libya had hit exports from Egypt, Abdul Malak said, though Nestle expected to reach almost double-digit growth in the North East Africa region encompassing Egypt, Libya and Sudan over five to 10 years.
"Last year we did well despite the challenges. We plan to continue on this plan of double-digit growth," he said.
Food is a growing sector in Egypt, the most populous Arab nation that is home to 90 million people.
But uncertainty over the Egyptian pound and a foreign exchange crunch has made it harder for foreign investors to operate and plan.
Egypt has faced a dollar shortage since the uprising drove away foreign investors and tourists, key earners of forex it needs to finance imports.
The pound has faced downward pressure as forex reserves have tumbled, but the central bank is reluctant to devalue.
Instead, it has sought to preserve forex for essentials like food by capping dollar deposits and imposing other restrictions that have slowed imports and made it harder for foreign investors to repatriate earnings.
Abdul Malak said Nestle had not repatriated profits for years and had not repatriated royalties for months.
"We understand and appreciate the challenge the government has…with a trade imbalance and a shortage of forex. However, it is very important to also appreciate that the solution is not necessarily reducing imports. The solution is to increase exports," he said.
"In any industry you would need to import parts even if you invest in manufacturing so this will be a challenge for obtaining forex."