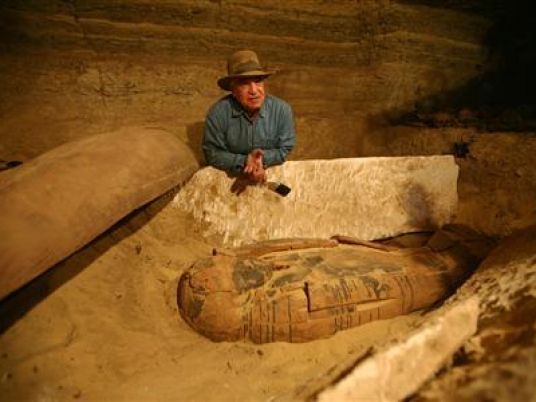 Residents of Dier Mowass village in the Minya governorate were frightened to discover three wooden coffins floating on the surface of the Nassria sewage canal on Saturday.
The Antiquities Ministry sent a committee to investigate.
According to a statement by the ministry, the committee determined, based on the burial methods used, that the three sarcophagi date back to the Greco-Roman era, between 332 BC and AD 395.
"The sarcophagi contained mummies poorly covered by linens and lacking any ancient carvings or writings. There were, however, remnants of some colors on the cloth. The word 'poor' here indicates that the material used was of inadequate quality," said Youssef Khalifa, head of Egyptian artifacts at the ministry.
There was no clear explanation for the incident, but Khalifa believes it was likely a robbery attempt at a closed excavation site. The thieves may have thrown the coffins away when they felt the police were close by. Alternatively, they may have been trying to avoid security checkpoints.
Khalifa pointed out that following the prosecution's examination of the coffins, they will be turned over to a museum in Minya to be restored.
The state-owned news site Ahram Online reported on Sunday that two of the coffins contained mummies, while the third was empty. The mummies themselves were found in poor condition.
This news comes only a few days after the ministry was bitterly criticized for being careless towards Egypt's precious artifacts, especially after the golden mask of the young Egyptian King Tutankhamun, the most famous archeological relic in the world, was permanently damaged by a botched restoration. The mask is located at the Egyptian Museum in Cairo.