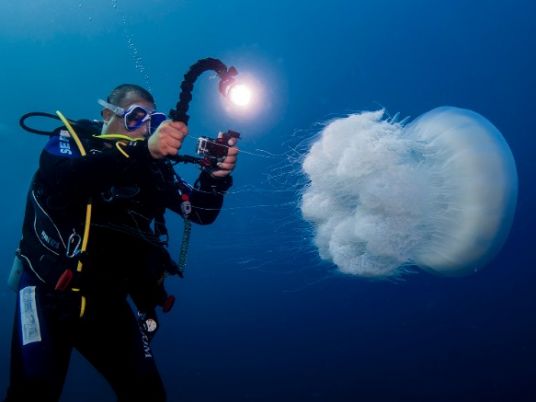 The Suez Canal Authority issued a statement denying any relation between the drilling of the new waterway of the Suez Canal and the spread of jellyfish along the North Coast, saying on its official website that it asked concerned authorities to take necessary measures to prevent the entry of jellyfish to the Suez Canal to protect the marine environment.
Being a global navigational path, the Suez Canal Authority places all environmental norms and standards at the top of its priorities, the statement said.
The Authority is ready to provide any possible assistance to confront this phenomenon on scientific and environmental grounds, according to the statement.
The Ministry of Environment issued a statement recently denying as well that the New Suez Canal caused the spread of jellyfish along the north coast. The Ministry cited unidentified parties that attempt to spread such a rumor for political purposes.
"We have implemented environmental monitoring programs for the quality of water and marine organisms in the Suez Canal, in cooperation with the National Institute for Oceanography and Fisheries. The studies covered the canal and its lakes fully over two years and continues until now," said Suez Canal Authority Chairman Mohab Mamish.
"The results showed no boom or a dense presence of jellyfish species in the area studied," he said.
This phenomenon is related to the environmental conditions in the Mediterranean Sea because these species of organisms do not have an ability to move and are rather controlled by currents and waves, according to Mamish.
The transmission of jellyfish through the Canal away from the sea currents is difficult, he concluded.
Jellyfish were notably present along the shores of the North Coast during the Eid al-Fitr vacation, with holidaymakers complaining of either being stung or not being able to swim in the Mediterranean Sea.
Edited translation from Al-Masry Al-Youm