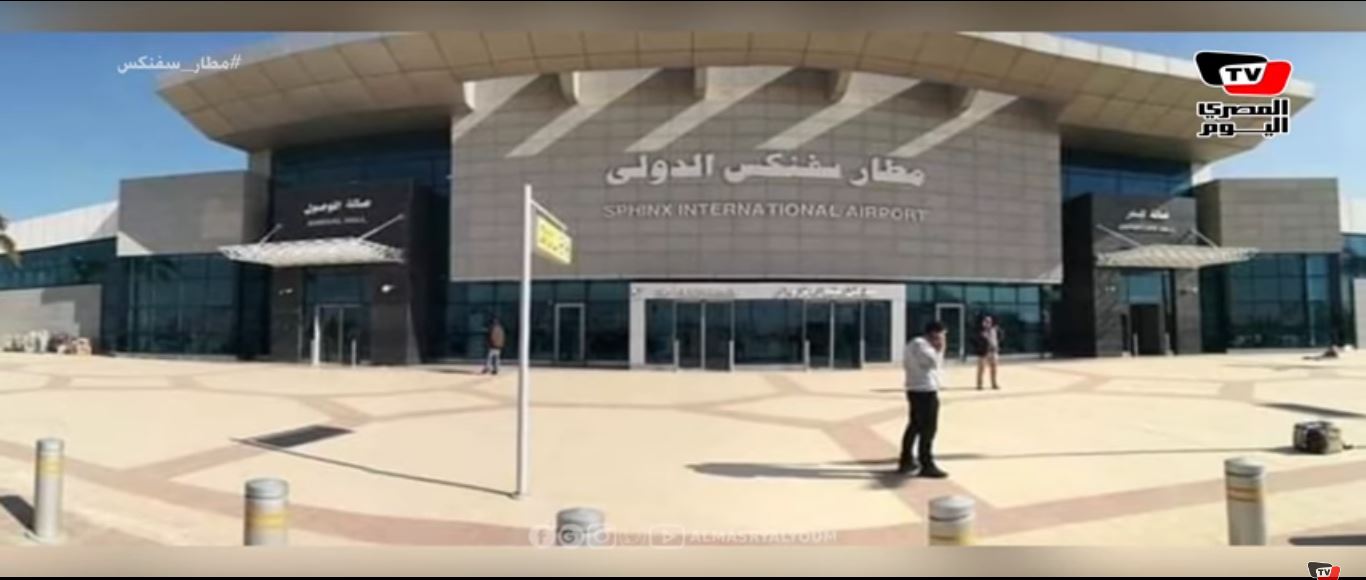 Egypt's Civil Aviation Ministry has started implementing a plan to develop the Sphinx International Airport, which includes building a new passenger terminal next to the existing one, as part of ongoing efforts to boost Egypt's vital tourism industry after years of political instability and security concerns.
The project is in line with the strategic goals set by Egypt's vision 2030, which aims to boost economic development across the country's various governorates and revitalize the tourism industry.
Sources from the Civil Aviation Ministry said on Monday that the plan for Sphinx International Airport includes adding a new terminal with a capacity of 600 passengers per hour. This should increase capacity at the airport from 300 passengers an hour to around 1,000, or 1.2 million travelers annually, reported pro-government newspaper Youm7.
The airport, which is located west of Cairo along the Cairo-Alexandria desert road, is scheduled to receive regular scheduled flights and charter flights during the upcoming period, Youm7 reported.
Sphinx International Airport was opened in January 2019. Egypt's government anticipates that the new airport will hold great touristic importance, due to its proximity to the Giza Pyramids, the much-anticipated new Grand Egyptian Museum, and other historic areas in Cairo and Giza popular with foreign travelers.
Built on an area of 26,000 square meters, the airport currently houses one arrival hall and one departure hall and includes a VIP lounge and five ticket counters, a mosque, and a parking lot able to accommodate "hundreds" of cars, as well as an area for customs and administrative and customer service centers.
It also boasts a modern air traffic control system, an Instrument Landing System, which functions as a radio signal navigation aid, and Distance Measuring Equipment, another type of radio navigation technology.
Sphinx International airport also comes equipped with a high-efficiency security system, which includes x-ray devices for passengers and inspecting cargo, the "latest" thermal surveillance cameras, and automatic fire alarms, according to state-owned newspaper Al-Ahram's website.
Construction work on the Sphinx Airport, the 33rd in Egypt's history, began in 2016 in collaboration with the International Civil Aviation Organization and came as part of efforts to boost Egypt's tourism industry, which also includes steps to bolster security at airports across the country.
Last week, Al-Masry Al-Youm reported that authorities at Egypt's Marsa Alam International Airport had begun installing a new security scanning system at a cost of LE60 million.
The new system, which includes a Computer Tomography X-ray (CTX), or an explosive detection device, will be in full operation before the year is up, according to the report.
Equipment to improve passenger security at the airport, which witnesses heavy foreign tourist traffic from Russia and Europe, comes amid ongoing efforts to encourage foreign visitors to Egypt's Red Sea resorts. Tourists to the area fell sharply in the last few years, a result of Russian and British flight bans after the 2015 bombing of a Russian airliner in Egypt's Sinai that killed over 200 people.
Over the last 12 months, however, Egypt's tourism sector has "witnessed remarkable growth," according to Danielle Curtis, Exhibition Director ME at the Arabian Travel Market. Arrivals were up to 17.8 million in 2019, compared with 11.3 million in 2018, an increase of 57.5 percent.
In December 2019, the first UK flight to Sharm el-Sheikh since the 2015 ban landed at Sharm El-Sheikh International airport, and low-cost airline EasyJet also announced that it would resume flights between the UK and Egypt's Sharm el-Sheikh in June 2020.
Russia also suspended flights to Egypt following the airliner bombing, but in 2018, Russia's largest airliner Aeroflot resumed flights to Cairo.
Efforts have also been made to boost security at Egypt's Hurghada International Airport. In late January 2019, a Russian security delegation charged with conducting an inspection tour of the airport praised beefed-up security measures taken in Terminal 2, which included the installation of an explosive detection device. The visit is part of the process for the resumption of regular charter flights from Russia to Egypt's resorts along the Red Sea.
Edited translation from Al-Masry Al-Youm