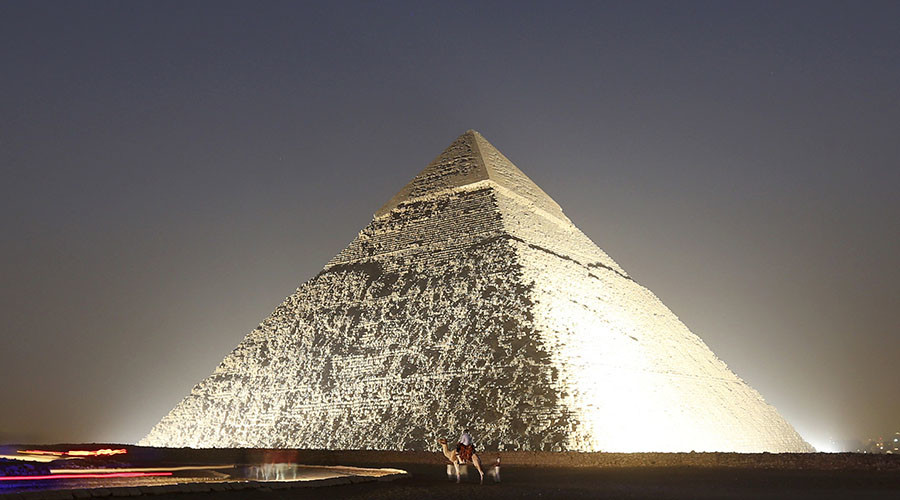 The largest of the Giza Pyramids, Khufu, contains a hollow space of at least 100 feet, which is the first large internal structure discovered within the pyramid, Nature magazine reported on Thursday, describing the it as "the discovery of the century".
"The space's dimensions resemble those of the pyramid's Grand Gallery, the 153-foot-long, 26-foot-tall corridor that leads to the burial chamber of Khufu," National Geographic website reported.
"The new discovery comes out of the ScanPyramids project, an international mission under the authority of Egypt's Ministry of Antiquities. Launched in October 2015, the project aims to non-invasively peer into Egypt's largest pyramids using a battery of technologies," according to National Geographic website.
Egyptologist and former Minister of Antiquities Zahi Hawass meanwhile told Al-Masry Al-Youm that Khufu pyramid has two gaps, a large gap over the Grand Gallery, and another gap on the ramp. He added that this has been known for 25 years.
The way the grand pyramid was built makes it full of void spaces, he continued.
More than 50 foreign missions that conducted studies and explorations at the Pyramids have confirmed the existence of these gaps, according to Hawass.
Hawass excluded that these holes may have rooms built inside.
Scientists have found a hidden chamber in Egypt's Great Pyramid of Giza, the first such discovery in the structure since the 19th century and one likely to spark a new surge of interest in the pharaohs, AP reported on Thursday.
In an article published in the journal Nature on Thursday, an international team said the 30-meter (yard) void deep within the pyramid is situated above the structure's Grand Gallery, and has a similar cross-section.
The purpose of the chamber is unclear, and it's not yet known whether it was built with a function in mind.
The pyramid is known as Khufu's Pyramid for its builder, a 4th Dynasty pharaoh who reigned from 2509 to 2483 B.C.
Visitors to the pyramid, on the outskirts of Cairo, can walk, hunched over, up a long tunnel to reach the Grand Gallery. The newly discovered chamber does not appear to be connected to any known internal passages.
Scientists involved in the scanning called the find a "breakthrough" that highlighted the usefulness of modern particle physics in archaeology.
Hawass meanwhile argued that the discovery was already known quarter a century ago, adding that missions working on Pyramids aim to test the modern equipment to see whether it can be used on antiquities or not.