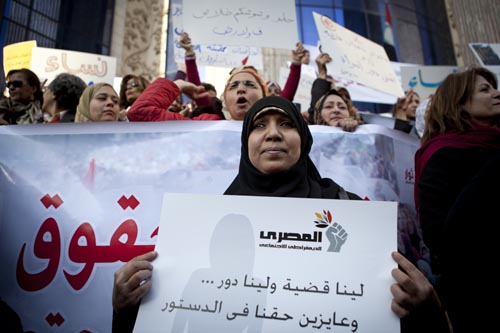 A non-governmental organization with links to the Muslim Brotherhood demanded the National Council for Women be abolished on Wednesday, saying the group sought to destroy Egyptian families and did not conform to Sharia Law.
Misr Awalan, which would also see the Personal Affairs Law amended, also called for councils, authorities and associations promoting women's rights to be shut down because they "discriminate between men and women on the basis of gender."
The organization accused the NCW of supporting Western ideologies and forcing Egypt to sign agreements that "violate Islamic Sharia," such as the Convention on the Elimination of All Forms of Discrimination against Women.
In its statement, Misr Awalan claimed "these agreements promote debauchery and adultery and other practices that violate Sharia," adding that family affairs should be the concern of "organizations that work to preserve family unity." However, the organization did not specify how signing such international agreements promoted debauchery and adultery.
Misr Awalan supports a number of other changes to Egyptian law, including lowering the marriage age to seven for boys and nine for girls, and amending Article 20 of Law 1/2000 on khula marriage so that women can seek a divorce if they pay back their dowry. It proposed Muslims be governed by Sharia courts instead of civil courts as well.
The statement comes as the NCW and other women's organizations push for an article in the Constitution that would require Egypt to abide by international treaties to better protect women's rights.