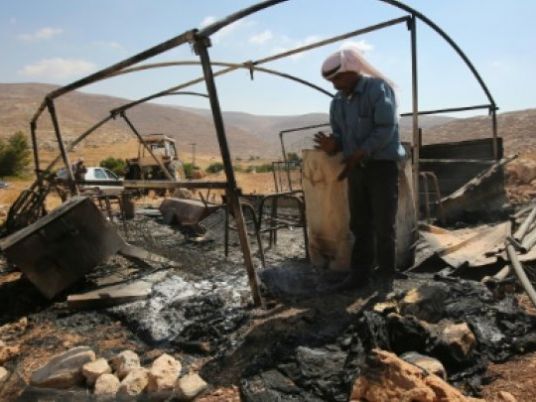 A tent was torched and Hebrew-language graffiti was sprayed at a Palestinian Bedouin village in the occupied West Bank in what an NGO said Thursday was a suspected attack by Jewish extremists.
"A tent belonging to a Palestinian Bedouin was set on fire and completely burned. Luckily there were no people in the tent but only food for (livestock)," Israeli NGO Rabbis for Human Rights said.
It distributed pictures from the scene, at Ein Samia north of Ramallah, showing a blackened skeleton of metal tubing which could have been the frame of a tent or shack.
Graffiti sprayed in red paint read "administrative revenge" alongside a crudely drawn Star of David.
Police confirmed in a statement that they received a report on the graffiti early on Thursday and were investigating but did not immediately confirm any arson attack.
The graffiti seemed to refer to the internment without charge — known as administrative detention — of three alleged Jewish extremists in the wake of a July 31 arson attack in the West Bank village of Duma that killed 18-month-old Palestinian Ali Saad Dawabsha and his father Saad.
The suspects have not been publicly accused of the Duma firebombing, but of unspecified links to a "Jewish extremist organisation".
There have been a series of "price-tag" attacks, or nationalist hate crimes, by suspected Jewish extremists.
Extremists in the past warned that there would be a price to pay for any action by Israeli authorities they regard as hostile to the Jewish settlement movement or to far-right religious beliefs.