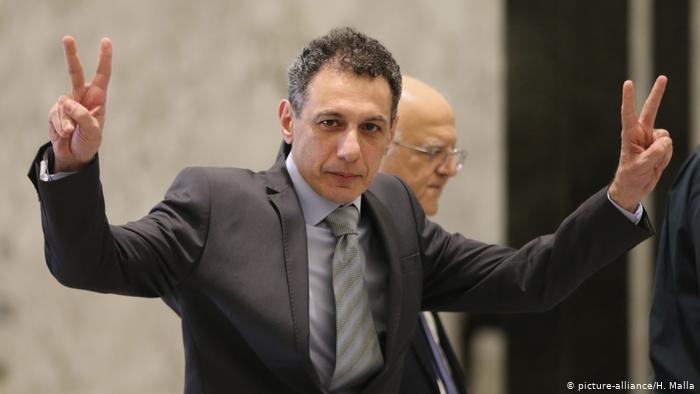 Iranian authorities said on Tuesday that they had released Nizar Zakka, a Lebanese businessman arrested in Tehran in 2015 after being accused of spying for the US. Zakka, who is a permanent US resident based in Washington, arrived in Beirut on Tuesday evening.
Although Zakka's release comes amid heightened tensions between the US and Iran, Zakka told reporters in Beirut that his release had been secured "from beginning to end" by Lebanese authorities, and that it was not part of a wider deal with the US.
Zakka went on to say, however, that his release could serve to deescalate tensions between Tehran and Washington.
Read more: Opinion: In Tehran, diplomatic hope dies last
On Tuesday, the White House said it was "thankful" for Zakka's release, but that the US wanted to see more of its citizens who are detained in Iran freed as well.
"The big question is that there's several others, and we want to see those people released as well," said White House Press Secretary Sarah Sanders.
Kidnapped by invitation?
Zakka heads an industry consortium advocating the development of information and communications technology in the Middle East. He was detained in 2015 after traveling to Tehran on an official invitation to participate in a conference. Iranian media said Revolutionary Guard officers arrested Zakka for his alleged ties to US security services as he tried to depart the country.
In 2016, Zakka was charged with espionage and sentenced to 10 years in prison. He denied the charges, while Iranian media portrayed him as a spy.
Read more: Iranian court jails US-Iranians for 10 years for spying
"I went upon an official invitation to a country where I was kidnapped," said Zakka on Tuesday, adding that he was then subjected to "arbitrary detention and a show trial."
Zakka had been one of several prisoners with either dual nationality or links to the West held in Iran.
Lebanese officials had been requesting his release for years, and according to Iranian media, Zakka's freedom had finally been secured following a personal request by Lebanese President Michel Aoun. It remains unclear as to why Iran decided to act now.