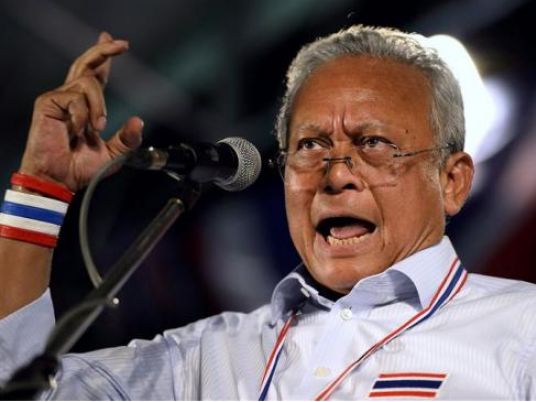 Tens of thousands of anti-government protesters occupied parts of central Bangkok on Monday, ratcheting up a two-month agitation to force the resignation of Thai Prime Minister Yingluck Shinawatra and meeting no resistance.
Police and soldiers maintained a low profile as the "Shutdown Bangkok" drive got under way in the city of about 12 million people. The mood was festive, with many protesters singing and dancing in the streets.
Major intersections that normally teem with cars and trucks were blockaded, but trains and river ferries were operating, most shops were open and motorbikes plied the roads freely.
"Don't ask me how long this occupation will last," protest leader Suthep Thaugsuban said in a speech to supporters carried by the movement's BlueSky television channel. "We will not stop until we win."
The turmoil is the latest chapter in an eight-year conflict pitting Bangkok's middle class and royalist establishment against the mostly poorer, rural supporters of Yingluck and her self-exiled brother, billionaire ex-premier Thaksin Shinawatra.
Thaksin was ousted by the army in 2006 and sentenced to jail in absentia for abuse of power in 2008, but the former telecoms tycoon looms large over Thai politics and is the dominant force behind his sister's administration from his home in Dubai.
In a bid to end the unrest, Yingluck called a snap election for February 2, but Suthep has rejected the poll, which the prime minister's Puea Thai Party would probably win.
As the blockade began to bite, Yingluck invited the protest leaders and political parties to a meeting on Wednesday to discuss an Election Commision proposal to postpone the vote, according to a senior aide of the prime minister.
The stock exchange rose on the hint of a compromise, ending 2.2 percent higher. But the protesters have rejected any election and want to install an appointed "people's council" to change the electoral system and bring in reforms to weaken Thaksin's sway.
"This won't end easily, and the turnout today is impressive, so it seems this deadlock looks set to continue," said Sukum Nuansakul, a political analyst and former dean at Bangkok's Ramkhamhaeng University.
"Suthep has said he won't negotiate with the government, yet the government said today it will try to invite all warring parties to the table. The protest group's aims to overhaul the political system in this country won't happen overnight. This could be just the beginning."
Eight people, including two police officers, have been killed and scores wounded in violence between protesters, police and government supporters since November.
Shootings were reported overnight near a government administrative complex that protesters began to blockade late on Sunday and at the headquarters of the opposition Democrat Party, which has thrown in its lot with the protest movement.
Pro-Thaksin groups started rallies in several provincial regions on Sunday but are steering clear of Bangkok for now. Suthep has said he would call off the protests if, as some fear, civil war threatened to break out.
The government deployed 10,000 police to maintain law and order, along with 8,000 soldiers at government offices.
"We don't want confrontation with the protesters … In some places we will let them into government buildings," Foreign Minister Surapong Tovichakchaikul said on Sunday.
COUP RUMOURS
In Lumpini Park in central Bangkok, protesters had erected hundreds of closely packed, brand new tents in anticipation of what could be a long stand-off.
As the first day of the shutdown drew to a close, a crowd of several thousand – including farmers from the south and workers from nearby office buildings – gathered near a stage to hear speeches and jeer at Yingluck's government.
As the light faded, the carnival atmosphere was tempered by apprehension that provocateurs could attack the camp, said Thanat Thanakitamnuay, a Maserati-driving protest leader who is the grandson of a former deputy prime minister.
"We expect a few home-made bombs or rounds fired at us but we don't expect any serious injuries, or injuries at all," he said, before adding, laughing: "I'm just being optimistic."
"As soon as the situation gets out of hand, the army will step in," he said.
Rumors of a coup are rife. The military has staged or attempted 18 coups in 81 years of on-off democracy, although it has tried to stay neutral this time and army chief Prayuth Chan-ocha has publicly refused to take sides.
In 2010 the army put down a pro-Thaksin movement that closed down parts of central Bangkok for weeks. More than 90 people, mostly Thaksin supporters, died during those events.
The latest protests took off when the government tried to push through a political amnesty that would have let Thaksin return home without serving jail time for corruption.
Thaksin, who redrew Thailand's political map by courting rural voters to win back-to-back elections in 2001 and 2005, gained an unassailable mandate that he then used to advance the interests of some major companies, including his own.
He is opposed by an elite that feels threatened by his rise and regards his sister as a puppet. Thaksin's opponents also include some academics who see him as a corrupt rights abuser and the urban middle class who resent, as they see it, their taxes being used for his political war chest.
The unrest has hurt tourism and delayed huge infrastructure projects that had been expected to support the economy. Consumer confidence is at a two-year low.
Protest leaders did not target public transport or Bangkok's airports. Anti-Thaksin protesters caused chaos when they forced the two main airports to close for days in 2008.
However, the central bank, finance ministry and some other ministries were forced to move operations to buildings around the city or even to neighboring provinces.
"The aim is not war," Kasit Piromya, a former foreign minister and member of the opposition who joined Monday's protests, told Reuters. "We have to keep pressure on the government until it is crippled and cannot function."