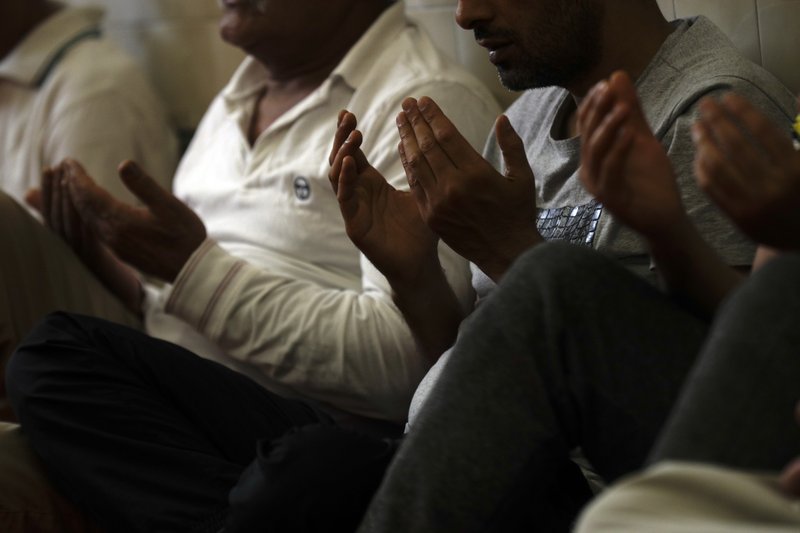 Ten Nobel Peace Prize winners are appealing to Saudi Arabia's king and crown prince to show mercy and halt the executions of 14 young people sentenced to death for participating in protests in 2012.
In a letter released Friday they said staying the executions would "correct a great injustice."
The laureates said the 14 were convicted and sentenced in a mass trial "based on the actions of the worst defendant," arguing that several would never warrant the death penalty. They also accused Saudi authorities of coercing confessions and reportedly subjecting the protesters to physical force.
The 14 face execution for protests and violence against security forces.
Among the 14, all minority Shia Muslims, is Mujtaba al-Sweikat, who was detained at a Saudi airport on his way to the United States to attend Western Michigan University.
The laureates said al-Sweikat was 18 when he was arrested on charges including supervising a group on Facebook and photographing the demonstrations. The letter said al-Sweikat's shoulder was broken while his confession was being coerced.
Others facing execution include Ali al Nimr, charged with setting up a Blackberry page named "The Liberals" and posting photos of the demonstrations and inviting people to participate; Munir Adam, a partially deaf and blind 20-year-old; and two others who were juveniles, the laureates said.
The Nobel laureates said that in court, the defendants repudiated their confessions. The letter also said that during the appeals process, the allegations of physical coercion were reportedly not investigated, which it said would violate both international law and Muslim Sharia law if true.
The American Federation of Teachers has urged President Donald Trump to demand that Saudi Arabia halt the execution of al-Sweikat and the 13 others.
Sarah Lee Whitson, who heads Human Rights Watch's Mideast and North Africa regions, said the 14 prisoners are at "imminent risk of execution."
A spokesman for the Saudi Ministry of Justice, Mansour al-Qafari, said in a statement published Aug. 4 that all defendants in Saudi Arabia receive due process.
He said terrorism-related cases and death penalty verdicts are reviewed by an appeals court and the supreme court, with a total of 13 judges reviewing a case before an execution is carried out.
Ultraconservative Sunni clerics in Saudi Arabia have in the past referred to Shias as apostates, and Shia protesters have been accused of being allied with the kingdom's rival, Iran.
The Nobel laureates said that in a world where nearly 2.5 billion people participate in social media and get news on the Internet, leaders can no longer "dismiss the voices of their constituency."
Jose Ramos-Horta, the former East Timor president and Nobel laureate, said: "It is a reality that the Internet has given voice to dissent in our century, and the minority populations who may have felt sidelined now have an open forum."
The other laureates who signed the letter are: South African anti-apartheid and human rights activist Archbishop Desmond Tutu, former Polish President Lech Walesa, former South African President F.W. De Klerk and India's anti-slavery leader Kailash Satyarthi.
Also signing: Liberian peace activist Leymah Gbowee, Yemeni human rights activist Tawakkol Karman, Iranian human rights attorney Shirin Ebadi, American anti-landmine activist Jody Williams and Northern Ireland peace activist Mairead Maguire.