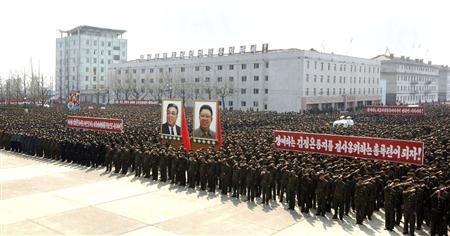 North Korea has placed two of its intermediate range missiles on mobile launchers and hidden them on the east coast of the country in a move that could threaten Japan or US Pacific bases, South Korean media reported on Friday.
The report could not be confirmed. But any such movement may be intended to demonstrate that the North, angry about joint US-South Korean military exercises and the imposition of UN sanctions, is prepared to demonstrate its ability to mount an attack.
The North has said nuclear conflict could break out at any time on the Korean peninsula in a month-long war of words that has prompted the United States to move military assets into the region.
The tension with North Korea has roiled South Korean financial markets and top finance officials in Seoul warned they could have a long-term impact on markets.
In North Korea itself, there was no intensification of the strident rhetoric about impending war as the country marked a national holiday. And some analysts said the tone of recent statements, however bitter, was most probably aimed at securing concessions and was unlikely to lead to armed conflict.
South Korea's Yonhap news agency, quoting a senior military official familiar with the matter said: "Early this week, the North moved two Musudan missiles on the train and placed them on mobile launchers."
There were unconfirmed media reports on Thursday that the North had moved missiles to the east coast, although it was not clear what kind of missiles had been deployed.
South Korea's Defense Ministry declined to comment.
Speculation centered on two kinds of missiles neither of which is known to have been tested.
One was the so-called Musudan missile which South Korea's Defense Ministry estimates has a range of up to 3,000 km; the other is called the KN-08, which is believed to be an inter-continental ballistic missile, which is again untested.
Market jitters
In Seoul, officials from economic ministries, the central bank and regulatory agencies held emergency talks and promised swift and strong action should the markets lose stability. News of the talks and the central bank involvement boosted investors' expectations of an interest rate cut next week.
South Korean shares slid, with foreign investors selling their biggest daily amount in nearly 20 months, hurt after aggressive easing from the Bank of Japan sent the yen reeling, as well as by the tension over North Korea.
"In the past, [markets] recovered quickly from the impact from any North Korea-related event, but recent threats from North Korea are stronger and the impact may therefore not disappear quickly," Vice Finance Minister Choo Kyung-ho told a meeting.
North Korea threatened to strike US military bases, including those on the American mainland, and to shut down a joint industrial complex with the South while denying entry to the complex by South Korean workers this week.
The South's new unification minister said the government was willing to pull out workers from the Kaesong industrial complex if it became dangerous, though he said the situation was not that serious for the moment.
The threats from North Korea's 30-year-old leader Kim Jong-un, though not unusual from the reclusive state, have followed the imposition of new UN sanctions in response to North Korea's third nuclear test in February. Reaction to the threats in markets has until now been muted.
The increasingly tense standoff with North Korea could not happen at a worse time for the government of the South's new president, Park Geun-hye, whose first steps in office included a sharp cut in growth forecasts.
Park, in office for just over a month, has ordered her cabinet to draw up what is likely to be a large supplementary budget to lower budget revenue projections and add new spending plans aimed at jump-starting faltering domestic demand.
"The market usually doesn't get jittery over North Korea threats. But this time is different, because they look willing to sacrifice Kaesong, which has never happened before," said Park Hyung-joon, macroeconomics team leader at Meritz Securities.
Some US analysts expressed a degree of alarm over the intensification of the threats.
"The rhetoric is off the charts," said Victor Cha, former director for Asian affairs at the White House National Security Council and now senior adviser at the Centre for Strategic Studies in Washington.
"We don't understand this new guy at all. And if the North Koreans move to provoke the South, the South is going to retaliate in a way we haven't seen before."
Other analysts said a degeneration into conflict was unlikely.
"We do not believe that North Korea intends to attack South Korea, pre-emptively or otherwise, in the current cycle of threat projection," the US-based Nautilus think-tank said in a study published on Thursday.
"Rather, these statements are opportunistic, and express its authentic strategy which is extortionate. The North's nuclear forces are intended to compel their adversaries to change their policies towards [North Korea], not to deter unprovoked external attack — except when such an attack might actually be in motion."