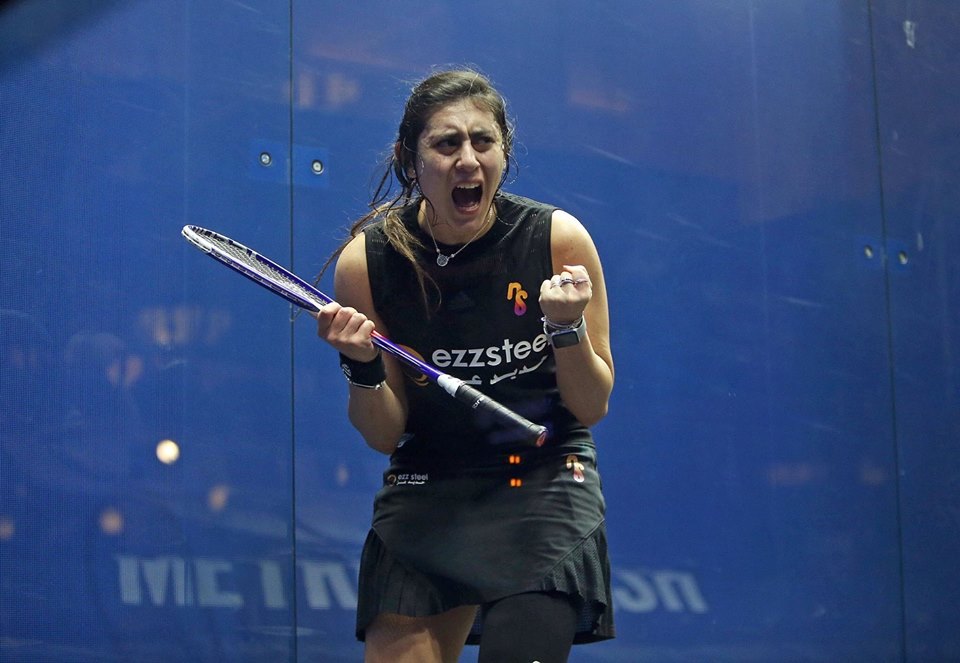 Nour El Sherbini, age 23, recently became the youngest three-time winner of the World Squash Championships when she took home this year's trophy.
Sherbini is the fifth woman to earn three World Squash Championships titles alongside New Zealand's Susan Devoy, Australia's Sarah Fitz-Gerald, Australia's Michelle Martin, and Malaysia's Nicol David.
In the World Championships that took place in Chicago from February 26-March 2, Sherbini won four out of five matches.
Alongside stars Mohamed Salah and five other Egyptians, Forbes included Sherbini's name on the "30 under 30 Middle East" 2019 list in which the American magazine profiles Arab youths who thrive in their fields. 
Sherbini had already made headlines this year after snatching the 2019 J.P. Morgan title from her Egyptian counterpart Raneem El Weleily, who ranks number one in the world while Sherbini sits second in the rankings.
The young star's sponsorship values have witnessed noticeable growth in recent years, especially in 2018 when she accumulated $195,000 (expected to reach $205,000) in sponsorship money, according to Forbes. Sherbini has been sponsored by Ezz Steel Company since 2014. She has won a total of $477,000 in prize money throughout her career to this point.
Alexandrian Sherbini was the youngest woman to capture the Women's World Squash Championships title in 2016 when she defeated English player Laura Massaro 3-0. Sherbini is Massaro's younger by almost ten years.
Sherbini won her first world championship at age 13 when she earned first place at the Women's World Junior Squash Championship. She was also the youngest woman to earn that title. Sherbini clinched the prize after defeating Egyptian player Heba El Turk, who was ranked first at the time, as well as Nour El Tayeb, Forbes reported.
Sherbini won the National Squash Championship when she was only eight years old.
Photo credit: Nour el-Sherbini official Facebook page