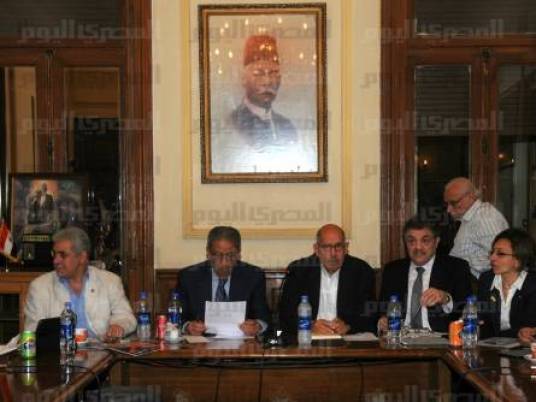 National Salvation Front (NSF) leaders' have rejected President Mohamed Morsy's call for a comprehensive national reconciliation, following his speech at an Islamist summit on Monday.
"The timing for a call for national reconciliation came too late," NSF spokesperson Khaled Dawoud said in a statement on Tuesday. "The opposition clings to holding early presidential elections because Morsy is unsuccessful."
"The opposition considers early elections the way out of a series of setbacks Egypt has suffered since Morsy came to power," Dawoud added.
"It is time for Morsy to leave the political arena to those who are more efficient in managing the affairs of the country."
"National reconciliation is usually based on defined policies, but President Morsy and his group [the Muslim Brotherhood] have not had one day of clear policies," NSF leader Abdel Ghaffar Shokr added.
"Randomness is the dominant feature in the leadership of the country right now. All the crises we are currently experiencing are the result of [this] randomness."
Referring to Morsy's Monday speech on the growing crisis over Ethiopia's Grand Renaissance Dam project on the Blue Nile, Ghaffar Shokr claimed the president had only offered "uncertain words."
Dostour Party leader Mostafa al-Gendy joined the anti-government condemnation, saying: "What reconciliation is Morsy talking about after all he has done to Egypt?"
Gendy accused Morsy of destroying Egypt's relations with African countries by creating a "state of war" with them.
NSF leader Mohamed Abouel Ghar meanwhile expressed his readiness to engage in dialogue with the administration, subject to certain preconditions.
The president must launch a cabinet reshuffle, pushing out the culture and interior ministers and firing Egypt's top prosecutor, before talks could go ahead, he said.
Morsy's Monday speech at the Cairo International Conference Centre called on opposition forces to join national reconciliation in order to "set aside disagreements in light of the current circumstances threatening the country's water security," referring to the Ethiopian Renaissance Dam controversy.
Edited translation from Al-Masry Al-Youm