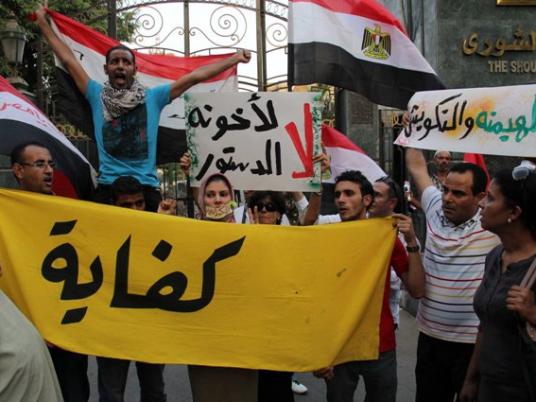 The National Salvation Front (NSF) on Sunday said it rejects President Mohamed Morsy's invitation to another national dialogue session scheduled on Monday, describing the invitation as "not serious and late."
Hassan Abdel Ghany, media spokesperson for the NSF described the call to dialogue as a "nominal" one, intended to mislead public opinion. Participating, he said, in this "facrce" would damage its credibility among the people and the revolutionary youth.
"The call lacks a specific schedule for exacting retribution for the killing of the martyrs, amending the Constitution, addressing the economic crisis or formulating foreign policies".
During a pre-recorded interview aired late Sunday night, Morsy called on all political groups, including the opposition's National Salvation Front, for an urgent national dialogue meeting Monday to discuss ensuring the integrity of the elections.
The president said the NSF is a primary partner in the political process. He also said he is keen on the transparency of the elections and the participation of all political forces.
Edited translation from Al-Masry Al-Youm