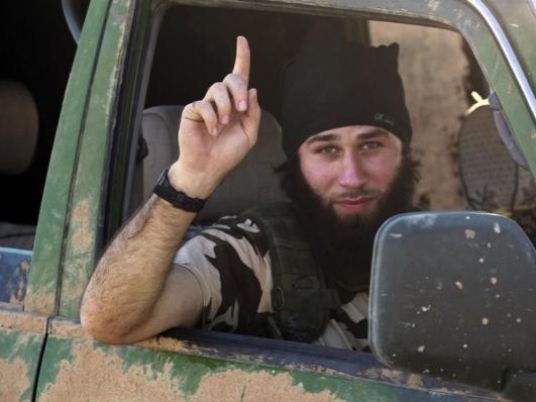 Islamic State fighters killed dozens in an attack on Syrian army-held areas in Homs province overnight, an organization monitoring the war said, as the group intensifies efforts to expand beyond its strongholds.
The Syrian Observatory for Human Rights, the monitoring group, said about 30 government soldiers and 20 Islamic State militants were killed in the fighting in and around the town of al-Sukhna, some 300 km northeast of Damascus.
Syrian troops repelled the attack in places and were still fighting in others, a military source said. "(The army) repelled the attack in areas, there are areas where it is still ongoing."
Islamic State has in recent months launched attacks in both the Syrian government-held as well as rebel-held areas far beyond areas of northern and eastern Syria where it is most firmly entrenched.
The attacks have added to pressure on the army and allied militia that have faced significant setbacks recently, notably in the northwestern province of Idlib where rebels have seized the provincial capital and the nearby town of Jisr al-Shughour.
The Lebanese group Hezbollah, a crucial ally of President Bashar al-Assad, and the Syrian military have meanwhile launched a big push to drive insurgents from the strategically important border zone between Lebanon and Syria.
Media run by Hezbollah, an Iranian-backed Shi'ite group with a powerful militia, on Wednesday reported further progress in the offensive to drive insurgents including members of the al Qaeda-linked Nusra Front from the Qalamoun mountain range.
The offensive is focused on areas about 50 km north of Assad's seat of power in Damascus that are seen as a top priority as he and his allies try to shore up control over heavily populated parts of western Syria.
Hezbollah's media arm, al-Manar, said the group's fighters and the Syrian army were bombarding a hill known as Talat Moussa – seen as the most important target in the offensive due to its high elevation overlooking the entire area.
The advancing forces had taken roughly half the area being targeted in the offensive so far, seizing seven positions from insurgents on Wednesday, a source familiar with the military developments said.