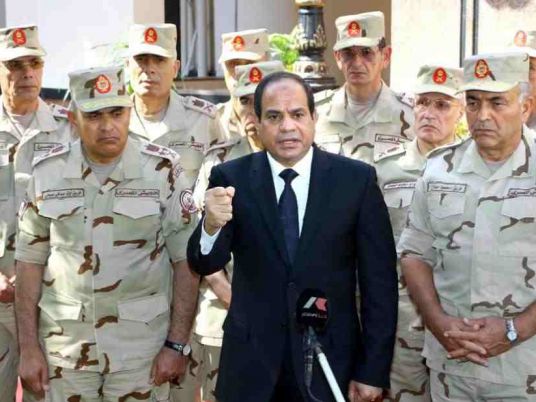 A police officer who shot dead a hospitalized bombing suspect linked to the Muslim Brotherhood has said that he was charged by Egypt's president speech that followed the murder of at least 27 army officers in Sinai last Thursday.
Officer Osama Abdallah is currently facing charges of pre-meditated murder.
Speaking to prosecution interrogators, Abdallah said he was in charge of guarding and taking care of 21-year-old Mohamed Attiya, a pro-Muslim Brotherhood student suspected of planting an IED outside al-Warraq municipality North of Cairo during protests by group loyalists on 25 January. He said Attiya sustained a gunshot in the leg while chased by police, hence his hospitalization at the Imbaba Public Hospital.
The officer told interrogators he was affected by the president's speech that followed the Sinai attack claimed by extremist group the Sinai Province, suggesting that his grief was further stoked watching the funerals of the slain soldiers.
"I would not chackle your hands to prevent you from taking revenge for the martyrs of Egypt," President Sisi said, addressing Egyptians in an emotional speech following the Sinai attack.
"I could not hold myself in check after listening to President Abdel Fattah al-Sisi's speech," Osama told interrogators. He said that moving to the suspect's hospital room on the same day, Attiya told him "I have good news for you; there had been an operation in Sinai that killed infidels."
He added that the suspect provoked him further telling him "we are going to kill Sisi within five days," whereby he could not hold back from shooting him seven times in the chest.
Edited translation from Al-Masry Al-Youm