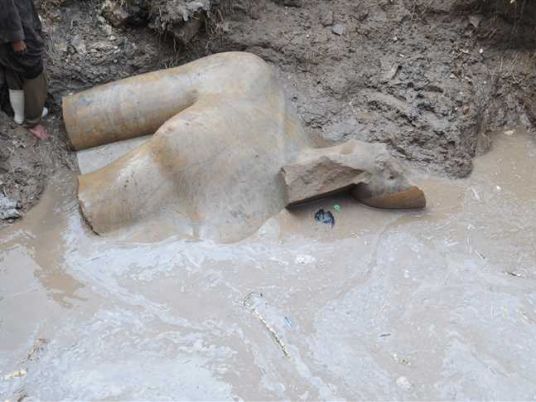 The head of the German archaeological mission Dietrich Rowe announced that the antiquities discovered Thursday morning in Matariya area are unharmed and in a good state of preservation.
Rowe was responding to what has been circulated by some news websites and on the social networking site Facebook on the use of heavy machinery to lift the statues.
The Antiquities Ministry announced on Thursday the discovery of parts from two statues of two kings, one of which is likely King Ramses II, belonging to the 19th Dynasty.
The discovery was made by a joint German-Egyptian archaeological mission operating in Matareya area at the site of King Ramses II Temple which he built at in Oan City in Ancient Egypt.
Mahmoud Afify, head of the Egyptian Antiquities Sector, said only part of the statue, the head, was lifted with a crane due to its excessively heavy weight.
Wooden billets and cork were used to separate the statue from the metal body of the crane, which was also filed with a large amount of clay soil during the lifting.
As for the rest of the parts of the statue, they are still at the site, while officials examine them to decide how they can best be lifted and moved, Afify added.
The moving process was done under the direct supervision of the two Egyptian and one German archaeologists in charge, he added, pointing out that the statue was mired in groundwater and clay.
Antiquities Minister Khaled al-Anany stressed on Thursday that the discovery is one of the most important recent archaeological discoveries, as it demonstrates the greatness of the temple in ancient times in terms of the magnitude of the building and the statues which were adorned by precise fine patterns and inscriptions.