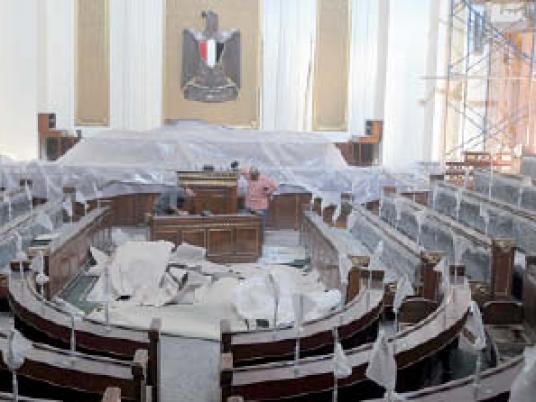 Egypt, battered by political turmoil and an economic crisis that has sent the local currency tumbling, will hold a parliamentary election in April, officials said on Wednesday.
Under Egypt's new constitution approved by a referendum last month, President Mohamed Morsy must set an election date within 60 days of when he signed the document into law on 26 December.
"The vote for parliament will take place in April," said an official at the president's office, who asked not to be named. "The exact date for the vote has not been fixed yet and the president will announce it no later than 25 February."
The Islamist-led government is trying to clinch a US$4.8 billion loan from the IMF to ease economic strains worsened by a turbulent political transition since a popular uprising toppled President Hosni Mubarak in February 2011.
Unrest over the Constitution rammed through by Morsy late last year prompted the Islamist president to withdraw tax rises seen as part of a program provisionally agreed with the International Monetary Fund.
The IMF is expected to send a technical team back to Cairo within two to three weeks to discuss the loan, which is vital to restoring a measure of confidence in the economy and in the Egyptian pound, which fell to a new low at a Central Bank auction of US dollars on Wednesday.
The pound has lost 5 percent of its dollar value since the Central Bank adopted a new system of dollar sales on 30 December designed to stem the currency's fall. The pound has dropped 10.7 percent since Mubarak's overthrow nearly two years ago.
Qatar threw Egypt a financial lifeline on Tuesday, saying it had lent the country another $2 billion and given it an extra $500 million outright to help control the currency crisis, which has drained foreign reserves to a critical level.
Egypt has not had a lower house of Parliament since the Supreme Constitutional Court dissolved the Islamist-dominated body in June. Legislative power now rests with the Shura Council.
"With a new Parliament in place, Egypt would have completed its transition with an elected president, a Constitution and a Parliament," said another official at the president's office.
The Freedom and Justice Party, the political wing of the Muslim Brotherhood, which propelled Morsy to power in a June election, was the biggest bloc in the previous Parliament.