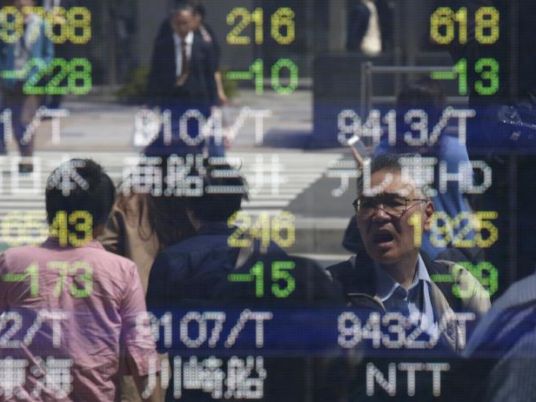 Oil's strongest run of gains since December cushioned the hit to stock markets on Monday from a successful missile test by North Korea and a cyber attack that locked 200,000 computers in more than 150 countries.
Asian shares hit a two-year high overnight and Wall Street was set to open higher, while Europe's major markets were mixed after hitting long-term highs in early trade.
In Europe, another victory for Angela Merkel's conservatives in a regional election in Germany pushed Frankfurt's DAX to a record high in early trade.
But nerves about the pace of Chinese and U.S. growth, and odd trends generated by record low volatility globally were lingering in the background and the DAX was down 0.1 percent on the day by 12.00 GMT.
"The main story of the day is the commodity market as the oil price rises, dragging up other commodity prices," said Kathleen Brooks, research director at City Index in London.
"This is also having a knock-on affect on the commodity currencies, with the CAD, AUD, NZD and NOK, the top performers in the FX space this morning."Saudi Arabia and Russia, the world's two top oil producers, said on Monday an output cut needed to be extended for a further nine months until March 2018 to rein in a global crude glut, driving oil prices almost 3 percent higher.
That made the past seven days the strongest for the crude market since December and spurred gains for copper and iron ore, as well as in commodity-linked currencies including the Australian and Canadian dollars and Russia's rouble.
Oil traders were surprised by the strong wording of the announcement, although it remained to be seen whether all countries participating in the deal would agree with the Saudi-Russian stance.
"Extending the cuts until March 2018 would take account of the fact that demand in the first quarter of a year is lowest for seasonal reasons," said Carsten Fritsch, analyst at Commerzbank.
"That said, we are sceptical about Russia's willingness to actively participate in any extended cuts."
Mixed Bag
At a time when central bank policymakers are wondering if they have successfully got consumer prices moving upward again, two weeks of fuel price rises also hint at another boost to headline rates of inflation in the months ahead.
That in the past has been a mixed blessing for markets and the global economic outlook, and gains for European stocks were neither large nor across the board, with Paris shares drifting lower.
The past fortnight has seen the emergence of some broad concerns over the pace of economic growth in the United States and China, and U.S. data on Friday was read as weak.
Gains in U.S. Treasury yields from the oil bounce were less than those for their German equivalents and the euro was a third of a cent stronger against the dollar.
"The shadow of Friday's softer U.S. CPI and retail sales data hangs over markets this morning," Societe Generale analyst Kit Juckes said in a note to clients.
"The inability of the dollar to gain more … reflects the changing global landscape as recovery elsewhere drives rates and yields a bit higher. With a thin U.S. data calendar, there's not much to propel yields or the dollar back up."
Report by Patrick Graham; Additional reporting by Jamie McGeever, Dhara Ranasinghe, Danilo Masoni, Helen Reid and Alex Lawler; Editing by Andrew Heavens; Reuters