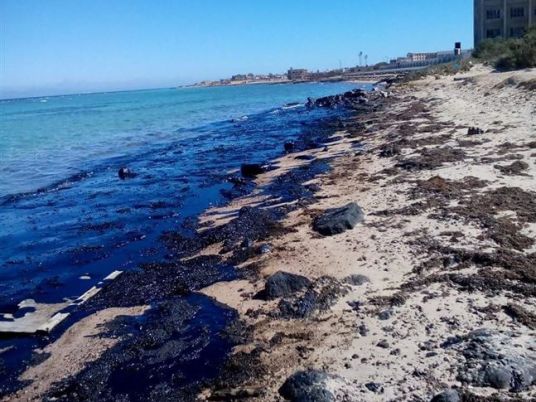 Crude oil spills have re-emerged on the beaches of Ras Ghareb Corniche, which has been the site of petroleum pollution (from crude oil) in several areas. Oil spills covered the beach for up to a kilometer amid warnings of damage to the marine and beach environment and the spread of pollution to other areas.
The Environmental Affairs Agency in Hurghada and the Ministry of Environment's task force in the Red Sea received a notification of the incident on Tuesday.
A committee of environmental researchers from the Red Sea moved to the site of the pollution, obtained a sample of the spill, and sent it to the laboratories of the Environmental Affairs Agency in Suez to determine the source of the spill and take legal action amid calls from residents of the city of Ras Ghareb to find a way to stop the frequent oil pollution on the shores of the city.
The General Petroleum Company (G.P.C.) has caused oil pollution in Ras Ghareb beach in six different incidents, damaging the marine environment and the beach.
A technical committee was formed in each incident to determine the financial value of the damage and a financial compensation, and prosecutors launched investigations into the incidents and interrogated the company's officials.
Edited translation from Al-Masry Al-Youm