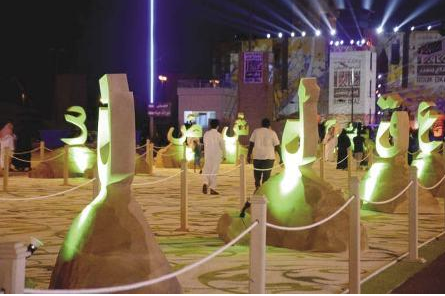 President of Okath Market Abdallah Al-Sawwat announced that Prince Sultan Bin Solaiman has ordered the launch of the necessary steps to register "Okath Market" as a UNESCO World Heritage Site, as it is built on a land rich with antiquities and reliefs , adding that a team has been ordered to excavate the region to prove its old origins.
Located in Saudi Arabia, Okath region dates back to the stone age and is considered a central part of the Arab pre-Islamic era, as it was an  economic, social and cultural hub. The region also witnessed the evolution of the Arabic language, as well as Arabic poetry and literature.
During the pre-Ismalic era, Okath was one of three main markets, in addition to Megna Market and Thi Al-Magaz Market. Arabs used to visit the Souq for the first twenty days in Dhu al-Qa'dah month (eleventh month in the Islamic calendar).
In addition to selling all kinds of goods such as dates, wine, clothes and sheep, Okath was also well-known for poetry competitions. Young poets would come from all regions to present their works in front of veteran poets.
In the modern ear, Okath became one of Al-Taef's remarkable sties. For the past twelve years, the market has hosted the Okath festival. This year's 12th edition of the festival is currently underway as it was launched on June 27 and will be taking place till July 13.
The current edition aims to revive history by bringing together Arab poets and intellectuals through ten discussions, eight trainings and three poetry nights, in addition to a theatre competition.
Other festival programs include a calligraphy exhibition and a painting exhibition, in addition to a telling of stories of different Okath poets. There will also be a competition for most beautiful horse in the market, among other things.
Last year's festival celebrated pre-Islamic era poet Doried Bin Al-Samma.
If successfully registered, Okath will join five other sites in Saudi Arabia that have been named UNESCO's World Heritage  Sites: Al-Hijr Archaeological Site, At-Turaif District in Ad-Dir'iyah, Historic Jeddah, Rock Art in Hail Region and Al-Ahsa Oasis, according to the UNESCO's official list.