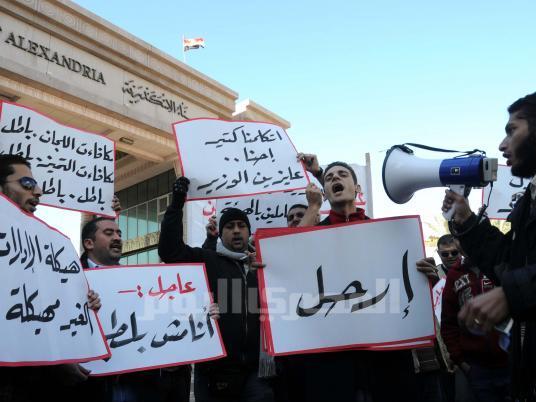 On 30 January, only five days into the revolution, the Egyptian Federation of Independent Trade Unions was born, the first such federation to be established since the union movement was monopolized by the state-controlled Egyptian Trade Union Federation in 1957. Since then, some 300 independent unions have been established nationwide, with a reported membership of nearly two million workers.
But nearly one year later, these unions remain unrecognized by the interim government. Many workers say they have yet to see conditions change, despite their critical role in the protests that forced former President Hosni Mubarak from office. "Workers continue to feel marginalized, just like they did under the Mubarak regime," says Mahmoud Rihan, a leading organizer of the recently established Federation of Transport Workers.
Rihan and other labor leaders met last Thursday, at a conference titled "Workers and Revolution," to discuss how the declared objective of "Bread, Freedom and Social Justice" has yet to be realized for much of Egypt's working class. The conference, which was held at the Center for Socialist Studies in Giza, also focused on the campaign "The Factories and the Square are One," with the aim of coordinating the struggles of protesters in the streets with those of laborers in their workplaces.
Remaining demands
Workers have achieved few concrete victories in recent months. Many labor activists say they are running up against the Supreme Council of the Armed Forces' (SCAF) anti-strike and protest laws, along with a deep intransigence in many companies and institutions. "Administrative and financial corruption are still rampant in Egypt's post offices and in other companies," says Osama Abdel Latif, an organizer of the Independent Postal Workers' Union. "The body of this corrupt regime remains alive and intact."
Activists say they want full-time contracts for full-time work, a monthly minimum wage of LE1,500, a maximum wage of not more than ten times the minimum, official recognition of independent unions, passage of a trade union liberties law, the purging of corrupt officials from state institutions and companies, and the re-nationalization of privatized companies.
Abdel Latif says these goals will only be achieved through much persistence. "We will never be granted social justice," he says. "This can only be achieved by workers through their cooperation and joint struggles."
One of the biggest obstacles to organized labor is gaining government recognition for independent trade unions. Its members are currently not recognized according to the provisions of Trade Union Act 35/1976, which stipulates that the Egyptian Trade Union Federation is the only such federation allowed by law.
Though a draft law on trade union liberties has been formulated and finalized over the past year, the ruling military junta has shelved it for the past three months. Labor activists at the conference criticized the SCAF for rushing to pass a law in April criminalizing strikes and protests, while dragging their feet over the passage of the law on trade union liberties.
Threat of privatization
The military junta and Prime Minister Kamal al-Ganzouri are actively obstructing progress in the field of labor reform, says Khaled Ali, a labor lawyer and the director of the Egyptian Center for Economic and Social Rights. In addition, he said, they are actively resisting the court-ordered re-nationalization of companies. "Privatization is the biggest crime against the national economy," says Ali. "These are not my words, but rather the findings of the judges in the Administrative Court."
During the privatization drive under the Mubarak regime, thousands of workers lost their jobs when their factories were sold to private owners. Ali says that 128 companies were privatized during Ganzouri's first term as premier, says Ali. Among prime ministers, only Ahmed Nazif, who served under Mubarak from 2004 to 2011, presided over the privatization of a greater number of companies. The SCAF-appointed interim government is full of former board members of Mubarak's Ministerial Privatization Committee. They include Ganzouri, Field Marshal Hussein Tantawi, Minister of International Cooperation and Planning Fayza Abouelnaga, and Electricity Minister Hassan Younis.
The Administrative Court nullified privatization contracts for three companies in September, upon finding that they were illegally sold to investors for less than their market price. Indorama Shebin Textile Company, the Tanta Flax and Oils Company, and the Nasr Company for Steam Boilers are to be returned to the public sector. The privatization contracts of two other companies, the Omar Effendi department stores and the Nile Cotton Ginning Company, were similarly annulled by administrative court rulings in May and December, respectively. However, the Ministry of Investment has recently filed judicial appeals against these verdicts in an attempt to overturn them.
"In keeping with the judiciary's verdicts, we workers must fulfill our duty of ensuring that these companies are re-nationalized," says Gamal Othman, a worker-activist from the Tanta Flax and Oils Company. "We will continue with our struggles for the re-nationalization of our companies. In doing so, we will be safeguarding our jobs and safeguarding the national economy."
The failure of the interim government to acknowledge workers' rights, activists said, means that they will be marking this 25 January not as merely an anniversary but as a time to take up the cause of Egypt's workers again. "I hope that this coming 25 January isn't commemorated with celebrations, but with protests," says Ali.