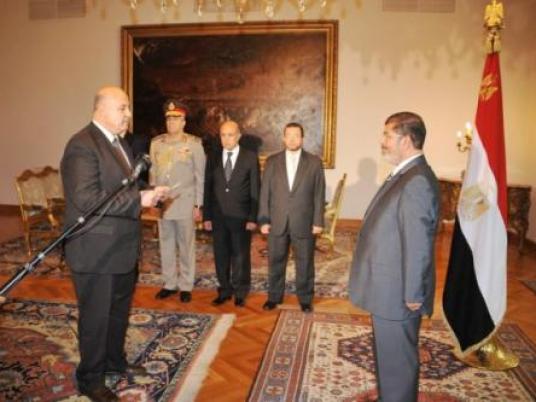 Vice President Mahmoud Mekky held a third national dialogue session on Thursday with a number of political figures and legal experts to discuss the new draft constitution and ways to resolve the political crisis surrounding it.
The first session was on Saturday, but civilian forces rejected the president's invitation unless he would postpone the rushed constitutional referendum in order to allow for true political dialogue. A second meeting was held earlier this week.
During Thursday's session the Committee of Experts, which was selected in the first session and chaired by former presidential candidate Mohamed Selim al-Awa, discussed proposed amendments to the draft constitution. They also discussed the nomination criteria for Shura Council membership.
The presidency issued a statement on Thursday, saying it has relayed the results of the session to the political forces that did not attend in order to explore their views, adding that dialogue would remain open with these forces so as to reach national consensus as far as possible on the draft constitution.
Opposition forces have however denied this, describing the gesture as "a lie."
"We received nothing from the presidency," said Emad Gad, vice president of the Social Democratic Party. "It was a session for the president and his supporters."
Ahmed Bahaa Eddin Shaaban, coordinator of the National Association for Change, also said he did not receive anything from the presidency. "The president only invited the Muslim Brotherhood and the Islamist groups," he said.
Mahmoud al-Alaily of the Egyptian Liberal Party said the National Salvation Front, which is the largest opposition group, did not receive anything either.
Edited translation from Al-Masry Al-Youm