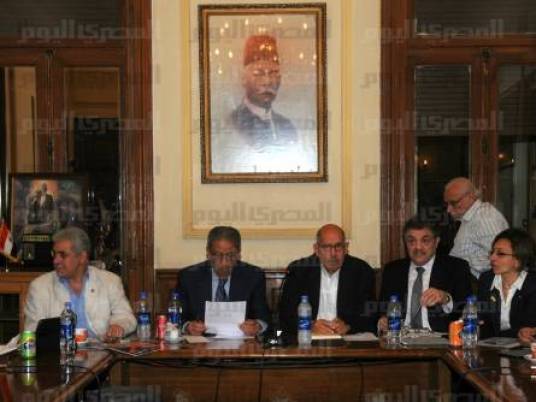 Free Egyptians Party and National Salvation Front (NSF) youth leader Hossam Fouda said Friday that opposition youth groups are prearing to issue a pamphlet criticising the Muslim Brotherhood, calling it "The Black Book."
The book will be released on 28 June following a 28 June press conference to publicise its release, Fouda told Al-Masry Al-Youm.
Fouda told Al-Masry Al-Youm that the book handles the alleged "crimes of the Muslim Brotherhood since the group was founded, until they came to power."
"It is divided into criminal, financial and ethical human rights violations, including the incident of the dragged citizen Hamada Saber in front of Ettihadeya Palace," he said.
"The book tackles the crimes of the Muslim Brotherhood in the People's Assembly, Shura Council, and presidential elections, in addition to the deformed Constitutional Declaration issued by President Mohamed Morsy, and the constitution which they drafted causing the Egyptian people to split."
Fouda said the book also criticised leading Muslim Brotherhood officials, including Supreme Guide Mohamed Badie, Khairat al-Shater, Mahmoud Ezzat and Hazem Salah Abu Ismail.
"The book will be a reference during the mock trial for the leaders of the Muslim Brotherhood," Fouda added, referring to the protest action planned for 28 June.
The mock trial will be held at either Tagammu Party or Lawyers Syndicate headquarters and will see syndicate chairman Sameh Ashour and other law experts try Muslim Brotherhood officials for alleged crimes in absentia.
Fouda said leaders of the Muslim Brotherhood had the right to respond to facts and claims stated in the book.
Activists and youth groups will distribute "The Black Book" amongst ordinary Egyptians and politicians alike, aiming to raise awareness of the dangers of Muslim Brotherhood rule, Fouda claimed.
Edited translation from Al-Masry Al-Youm