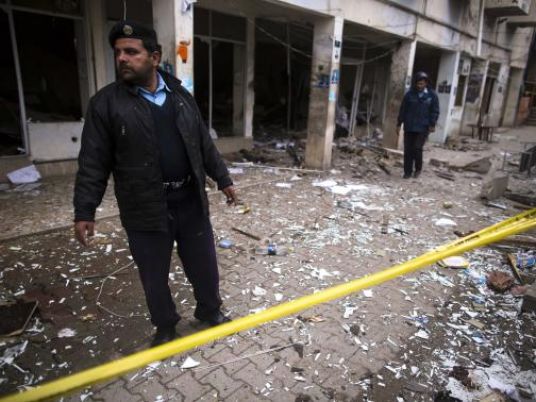 Pakistan has made a formal application to join a club of nuclear trading nations, the foreign ministry said on Friday, a move likely to lead to a showdown in the group which has also been facing calls to induct India as a member.
The Nuclear Suppliers Group (NSG) is a 48-nation club dedicated to curbing nuclear arms proliferation by controlling the export and re-transfer of materials that could foster nuclear weapons development.
Pakistan's application will add to long-running tensions with India. The two nuclear-armed neighbors have fought three wars since being split amid violence at the end of British colonial rule in 1947. Diplomats quietly launched a new push last year to induct India into the club last year.
"Pakistan has the expertise, manpower, infrastructure, as well as the ability to supply NSG controlled items, goods and services for a full range of nuclear applications for peaceful uses," Pakistan's foreign ministry said in a statement announcing its formal application.
The campaign for India's membership is viewed as carrying the risk of antagonizing Pakistan as well as its ally China, which could veto any application by India.
China could also insist, as a condition of India's membership, that Pakistan also be allowed to join, a potential hard sell due to Islamabad's development of new tactical nuclear weapons.
"Pakistan has stressed the need for NSG to adopt a non-discriminatory criteria-based approach for NSG membership of the countries that have never been party to the nuclear Non-Proliferation Treaty (NPT)," Pakistan's foreign ministry added.
Neither India nor Pakistan has signed the NPT, generally seen as a prerequisite to NSG membership.
U.S. President Barack Obama urged Pakistan last October to avoid developments in its nuclear weapons program that could increase risks and instability.
Washington has been concerned about Pakistan's development of new nuclear weapons systems, including small tactical nuclear weapons, and has been trying to persuade Islamabad to make a unilateral declaration of "restraint".
Pakistan said on Thursday it was "seriously concerned" about recent missile tests by India and said it could respond by upgrading its defenses.
The NSG, which was created in response to India's first nuclear test in 1974, is expected to hold its next meeting in June.