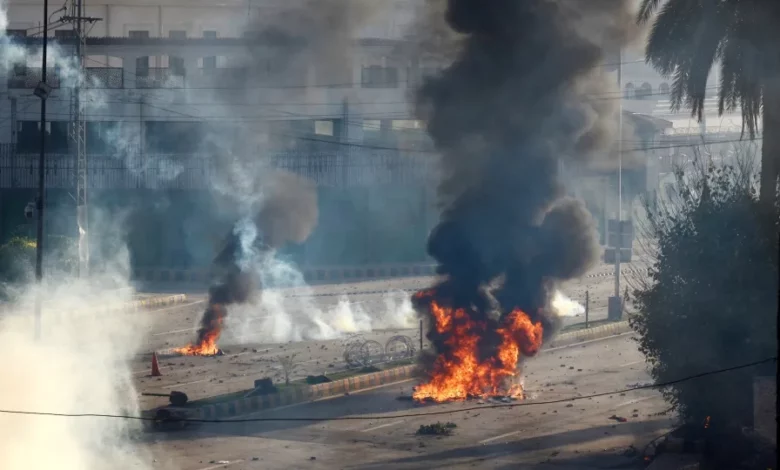 Islamabad, Pakistan
CNN
 —  Former
Pakistan
Prime Minister Imran Khan is expected to appear in front of a judge Wednesday on multiple corruption charges, less than 24 hours after he
was dramatically arrested
by paramilitary troops in a significant escalation of a year-long political standoff that has put the South Asian country on edge.
Khan supporters and riot police gathered outside police headquarters Wednesday, where police said the fomer prime minister's hearing will take place rather than a court to "keep him away from the public." Khan's lawyer Faisal Chaudhry told CNN Wednesday he has had "no contact" with his client.
The stage is now set for the possibility of a tumultuous showdown between the country's powerful military and Khan's supporters following deadly and unprecedented clashes Tuesday that saw angry crowds break into and vandalize the homes of army personnel.
Video before Khan's arrest on Tuesday show paramilitary forces breaking a window to get to the politician as he watched impassively at the unfolding chaos. Khan was then led into a vehicle surrounded by dozens of security officers and escorted away.
In a pre-recorded statement released on YouTube by Khan's Pakistan Tehreek-e-Insaf (PTI) political party after his arrest, the former prime minister said he was "detained on incorrect charges" and told his supporters "the time has come for all of you to come and struggle for your rights."
"I have always followed the law. I am being apprehended so that I can't follow my political path for this country's fundamental rights and for me to obey this corrupt government of crooks which has been hoisted on us," he said in the video.
Hundreds of Khan supporters responded to his call to take to the streets and violent protests broke out in several cities.
Khan supporters armed with sticks broke into the military's headquarters in the city of Rawalpindi, just outside the capital, chanting in support of the former leader.
Protesters also blocked one of the main thoroughfares into Islamabad, throwing stones and pulling down street signs. A police vehicle was set ablaze, resulting in police retaliating with tear gas.
Meanwhile, in the southwestern city of Quetta, a Khan supporter was shot and killed by police at a protest, according to a CNN journalist at the scene.
Authorities blocked mobile internet services shortly after in a bid to quell the chaos, disrupting access to Twitter, Facebook and YouTube in the nation of 270 million. Private schools across the country were ordered shut on Wednesday, according to the Private Schools Association.
At least 43 protesters were arrested in Islamabad Tuesday, the city's police said on Twitter.
Pakistan in crisis
Khan, 72, was ousted in a parliamentary no-confidence vote last year and has since led a popular campaign against the current government led by Prime Minister Shehbaz Sharif, accusing it of colluding with the military to remove him from office.
The former star cricketer turned populist politician denies the charges leveled against him, instead accusing Sharif and the military of playing a political game. The military and Sharif – who is in the United Kingdom after attending the coronation of the British monarch – deny Khan's accusations.
The tensions have brought Pakistan, a nuclear-armed country that has for decades grappled with political instability, into unknown territory and have often boiled over into violence.
Last November, Khan survived a shooting at a political rally, in what his party called an assassination attempt.
And in March, chaos erupted outside Khan's Lahore home after hundreds of his supporters challenged police and paramilitary troops who had arrived to escort him away. Officers were forced to suspend the operation after protests turned violent – one of multiple unsuccessful attempts by police to arrest Khan.
Khan's claims have struck a chord with a young population in a country where anti-establishment feelings are common, and are being fueled by a rising cost of living crisis as soaring inflation makes ordinary goods increasingly unaffordable.
Amid the crisis, the government has so far failed to reach an agreement with the International Monetary Fund to restart a $6.5 billion loan program that has stalled since November, in an effort to keep the economy afloat.
The political upheaval appears to have bolstered Khan's popularity. Last year, his PTI party won local elections in the country's most populous Punjab province, seen as a litmus test for national elections.