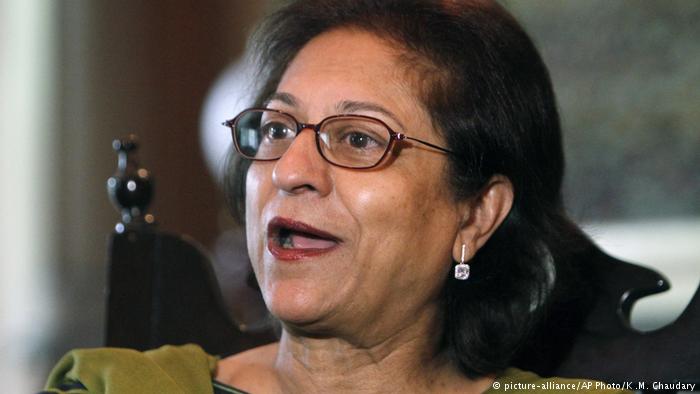 The family of respected Pakistani rights advocate Asma Jahangir has confirmed her death from cardiac arrest. She had recently won Sweden's alternative Nobel Prize for her work defending and promoting human rights.
Tributes have been paid to the prominent Pakistani lawyer and human rights activist Asma Jahangir after her death on Sunday in Lahore.
Jahangir, who was 66, died of cardiac arrest, according to her sister. Pakistan's GEO News, citing hospital officials, said the former UN special rapporteur suffered a stroke and died after arriving unconscious in the hospital.
An outspoken critic of Pakistan's powerful military establishment, she was placed under house arrest in 1983 and later jailed for campaigning for the restoration of democracy. Years later, she was detained again by the government of then military ruler Pervez Musharraf.
PM leads tributes
Pakistani Prime Minister Shahid Khaqan Abbasi led the praise of Jahangir's life's work, describing her "immense contributions to the rule of law, democracy and the safeguarding of human rights."
Omar Waraich, Amnesty International's deputy director for South Asia, tweeted that Jahangir was "the bravest person I knew. She fearlessly stood up to dictators, thugs, misogynists."
"She was never daunted by the attacks that came her way. She never wavered from her principles. Her loss is incalculable," he wrote.
Pakistani Nobel Peace Prize winner Malala Yousafzai said on Twitter she was "heartbroken" at the death of the "savior of democracy and human rights," especially as the pair had just met in Britain a week ago.
A tireless rights activist
Born in Lahore in 1952, Jahingir braved death threats, beatings and, at one time, claimed Pakistan's much-feared Inter-Services Intelligence (ISI) spy agency was trying to murder her.
During her long career in law and rights activism, she won freedom for bonded laborers from their "owners," and the right for women to marry of their own volition. She also campaigned tirelessly on behalf of religious minorities and children.
Jahangir headed the Human Rights Commission of Pakistan for many years and became the first woman to serve as the president of the Supreme Court Bar Association of Pakistan. She was also appointed as UN rapporteur in the region during the 1990s.
The activist received France's highest civilian award in 2014 and Sweden's alternative to the Nobel Prize for her decades of rights work.
In an interview with DW following her win, Jagangir described the Swedish award as recognition of all rights activists in Pakistan who work under very difficult circumstances.
"It is a tribute to a large number of Pakistanis who have worked relentlessly for better human rights in the country," she said. "It is also an award for the voiceless people and all others who have been victims of human rights abuses."
Changed Pakistan
Acknowledging how Pakistani society has progressed during her long career, Jahangir remarked: "Politicians are more sensitive towards human rights issues. We believe that when there is a democratic setup, we have a greater voice. The freedom of expression has also improved in the country."
Pakistani media reported that the 66-year-old had also been under treatment for cancer for many years.
She leaves behind a husband, a son and two daughters.