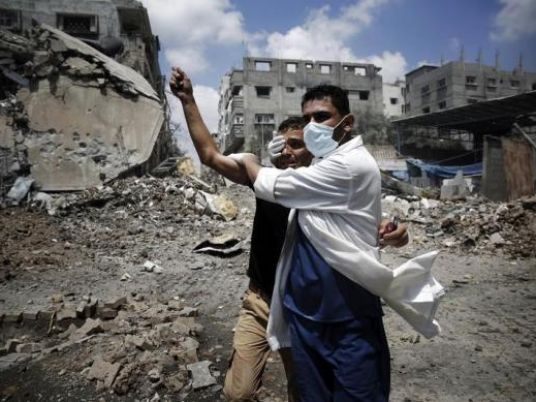 The Palestinian delegation, currently in Cairo for negotiations over a truce with Israel, condemned the assassination of Marwan Kawasme and Amar Abu Aysha in Khalil City at dawn on Tuesday.
A statement from the Palestinian delegation in Cairo said the 'occupation authority' has chosen this day to resume indirect negotiations between the Palestinian and Israeli sides under an Egyptian sponsorship which shows the 'deliberate malicious intentions' of the Israeli side to resume aggression against the Palestinian people.
The statement also accused Israel of continuing to commit brutal crimes against the Palestinian people and continuing to repudiate the implementation of Israeli obligations, and disregarding the international community's requests to stop the aggression and lift the siege on the Palestinian people.
The Palestinian delegation is fully convinced that the operation carried out by the occupation forces in Khalil City came to hide the reality of what happened since the disappearance of the three settlers in Khalil, the statement added.
The delegation demanded that Israeli cease its attacks and to begin the reconstruction of the Gaza Strip as well as end the 'unjust siege', which was imposed on the strip years ago.
Israeli forces killed the two Palestinian men earlier Tuesday for allegedly being implicated in the killing of three Israeli teenagers two months ago.
Edited translation from Al-Masry Al-Youm