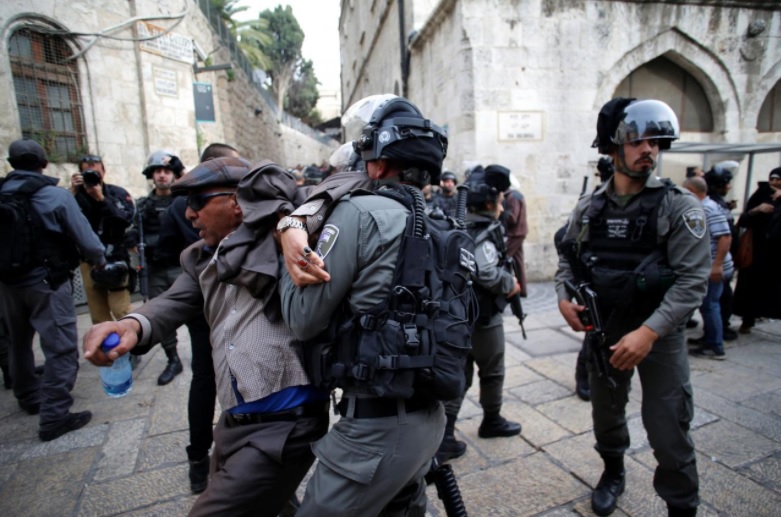 A Palestinian was killed in renewed clashes with Israeli forces, Gaza's Health Ministry said Friday, and Palestinian President Mahmoud Abbas urged France and Europe to play a stronger role in peace efforts, as fallout over President Donald Trump's recognition of Jerusalem as Israel's capital continued.
The fresh violence came a day after the UN General Assembly resolution denouncing President Donald Trump's decision.
Abbas on a visit to Paris called on France and Europe to play a bigger role in peace efforts, insisting he'll no longer accept any US plans for Mideast peace because of the Trump's position on Jerusalem, which Palestinians see as the administration siding with Israel on the most sensitive issue in the conflict.
Gaza Health Ministry spokesman Ashraf al-Kidra said a 24-year-old man was killed after being shot in the chest in clashes along the border with Israel. Another four Palestinians sustained moderate wounds, he said.
The Israeli military said it was investigating the report.
Palestinians have been clashing with Israeli troops across the West Bank and along the Gaza border since Trump's Jerusalem announcement on Dec. 6.
Nine Palestinians have been killed and dozens more wounded in the clashes so far.
In Bethlehem on Friday, some Palestinian protesters held anti-Trump banners reading "Mr. Trump, it's not your land to decide to whom it belongs, Jerusalem is ours and it belongs to us,"and "Jerusalem is the capital of Palestine."
The UN General Assembly voted overwhelmingly Thursday to denounce Trump's recognition of Jerusalem as Israel's capital, largely ignoring Trump's threats to cut off aid to any country that went against him.
The nonbinding resolution declaring US action on Jerusalem "null and void" was approved 128-9 — a victory for the Palestinians, but not as big as they predicted. Amid Washington's threats, 35 of the 193 UN member nations abstained and 21 were absent.
The Trump administration made it clear the vote would have no effect on its plan to move the American Embassy from Tel Aviv to Jerusalem.
The United States and Israel had waged an intensive lobbying campaign against the UN measure, with US Ambassador Nikki Haley sending letters to over 180 countries warning that Washington would be taking names of those who voted against the US.
Trump went further, threatening a funding cutoff: "Let them vote against us. We'll save a lot. We don't care."
Speaking in Paris, Abbas said the United States is "no longer an honest mediator in the peace process."
Abbas also denounced the US threat to cut financial aid for countries who voted to back the UN resolution.
In a Christmas message, sent by his office as he met with French President Emmanuel Macron, Abbas said Trump's move disqualified the US from continuing in its traditional role as mediator in peace talks.
"The US chose to be biased. Their future plan for Palestine will not be based on the two-state solution on the 1967 border, nor will it be based on International Law or UN resolutions," Abbas said in the written message.
Trump's announcement departed from decades of US policy that the fate of Jerusalem should be decided through negotiations. East Jerusalem is home to sensitive Jewish, Muslim and Christian holy sites and the fate of the territory is an emotionally charged issue at the heart of the conflict.
The Palestinians seek east Jerusalem, captured by Israel in the 1967 Mideast war from Jordan, as the capital of their future state. Israel says the entire city, including east Jerusalem, is its eternal capital.
Trump said his decision merely recognizes the fact that Jerusalem already serves as Israel's capital and is not meant to prejudge the final borders of the city.