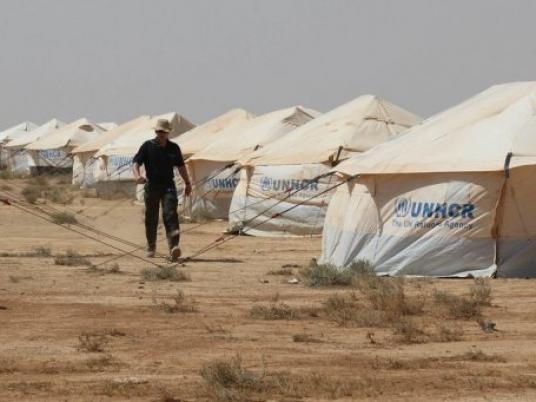 Hundreds of Palestinians refugees living in Syria flooded into Lebanon on Monday after clashes raged between Palestinian factions loyal to and opposed to President Bashar al-Assad in a district of Damascus.
A Reuters witness at the border said they came in buses and cars piled high with belongings. A Lebanese security source said the refugees from Damascus' Yarmouk Camp suburb had tried to flee on Sunday but the road was blocked by fighting.
Opposition activists said Syrian fighter jets bombed Yarmouk on Sunday, killing at least 25 people sheltering in a mosque. They said troops and tanks were gathered outside the camp on Monday, and clashes inside continued.
Syria hosts half a million Palestinian refugees, most living in Yarmouk and descendants of those admitted after the creation of Israel in 1948, and has always cast itself as a champion of the Palestinian struggle, sponsoring several guerrilla factions.
Both Assad's government and the mainly Sunni Muslim Syrian rebels have enlisted and armed Palestinians as the uprising has developed into a civil war.
The camp, on the southern fringes of Damascus, falls within a swathe of outlying suburbs running from the east to southwest of the capital from which rebels have been trying to push into the city center and the heart of 42 years of Assad family rule. Assad's forces have held them back.
Abu Khalil Jalili, a Palestinian who entered Lebanon with his family, said others we not so lucky: "We came here, but most people sleep on the streets in Damascus."
Syrian state television said that Syria's Foreign Minister Walid al-Moualem had told UN Secretary-General Ban Ki-moon on Monday that Palestinians should not offer "shelter or assistance to terrorist groups" in Yarmouk.
His comments came after Ban's spokesperson said the secretary-general was gravely concerned at reports of Sunday's air strike.
Moualem said Palestinians should work to expel "terrorists" — the label authorities give to anti-Assad rebels — and the United Nations should have implemented an international resolution including the right for Palestinians to return.
Palestinian factions
Heavy fighting broke out two weeks ago between Palestinians loyal to Assad and Syrian rebels, together with a brigade of Palestinian fighters known as Liwaa al-Asifah (Storm Brigade).
Clashes flared again after Sunday's air strike, between Palestinians from the pro-Assad Popular Front for the Liberation of Palestine-General Command (PFLP-GC) and Syrian rebels supported by other Palestinian fighters.
Palestinian refugee Abu Taha said that the PFLP-GC came to people's houses and told them to leave, saying that rebels had entered the area.
"I think that 80 percent have fled. Not all have come to Lebanon; some have stayed in Damascus," said Abu Taha, who entered Lebanon with his wife and four children.
The PFLP-GC has remained loyal to Assad, even though Palestinian sources say its leader, Ahmed Jibril, fled Yarmouk for the safer Syrian city of Tartous.
Other Sunni Palestinian groups abandoned Assad, who has long positioned himself a bastion of resistance against Israel but has lost allies in his crackdown on the majority Sunni revolt by his minority Alawis, derived from Shi'ite Islam.
The Islamist Hamas group, the leaders of Gaza who left Syria in December 2011, condemned the bombing of Yarmouk, saying in a statement from Gaza that Hamas "strongly condemns the continued aggression against the Syrian people and we strongly condemn the bombardment of Palestinian camps in Syria".
Yasser Abed Rabbo, general secretary of the Palestine Liberation Organization, said the PLO held Assad responsible for the deaths during the air raid.
"Massacres in Yarmouk camp and everywhere in Syria requires sooner than later the international community to put an end to the regime of terrorism and killing in Syria before it sets the entire region on fire," he told Reuters in Ramallah.
"We are following our people's condition in Syria and will take all measures in order to protect our people and on all levels."
Palestinian Authority Prime Minister Salam Fayyad said Sunday's bombing was "a crime perpetrated by a regime that no longer has any legitimacy".
Arab League chief Nabil al-Araby said Damascus was responsible for the safety of Palestinians refugees in Syria.
He also called on all sides of the conflict to preserve the safety of the refugees and to keep them out of the fighting.