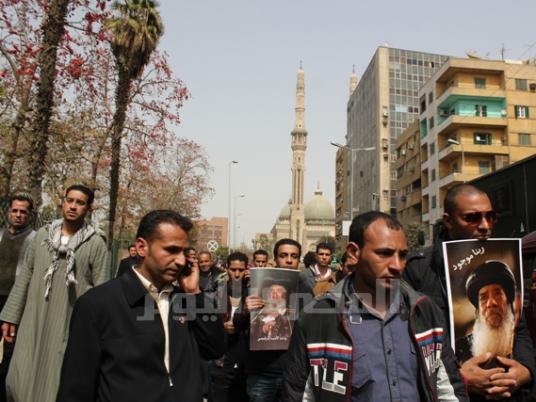 In a surprise move, several powerful figures within the Coptic Orthodox Church have been barred from running in the next papal elections by the papal election committee, while only five senior clergymen have been selected to run.
Bishop Pachomius, the acting patriarch, said in a press conference broadcast by Al Jazeera Mubasher Misr, that that only five candidates are running in the election to succeed Pope Shenouda III and be enthroned as the 118th Pope and Patriarch of Alexandria and All Africa on the Holy Apostolic See of Saint Mark the Evangelist.
The candidates include two bishops: Bishop Tawadros, who holds the title of Auxiliary Bishop for the Holy Metropolis of Beheira, and Bishop Raphael, who holds the title of Assistant Bishop for Central Cairo. The other three candidates are all monks: Raphael Ava Mina, Pachomius al-Soriany and Saravim al-Soriany.
Among the major figures excluded is Bishop Bishoy, secretary of the Holy Synod. Bishoy, whose official title is Metropolitan Bishop of the Holy Metropolis of Damietta, holds a higher position as the secretary of the church's highest religious body, the Holy Synod of the Coptic Orthodox Church. He is one of the most senior members in the synod, and seniority is a pivotal factor in the traditions of the Coptic Church.
But since 2010, Bishoy has been under fire after the challenged the authenticity of certain verses of the Quran, which caused uproar within the country's Muslim majority.
Bishop Youannes, who holds the post of assistant bishop and patriarchal secretary at the Patriarchal Residence in Cairo and was close to the late Pope Shenouda III, was also excluded from running.
Pope Shenouda III died on 17 March 2012 at the age of 88. He was named the Coptic Orthodox Church's 117th pope in 1971.
After the death of Pope Shenouda III, Bishop Pachomius of Behaira was appointed as the acting patriarch until the election of a new pope, as stipulated in the regulations of the church. Seventeen candidates were originally nominated, including Bishop Bishoy, Bishop Youannes, Bishop Jeremiah and Bishop Botros.
Bishop Pachomius, who appeared in the press conference surrounded by members of the nomination committee, didn't give a reason as to why the committee only chose five candidates.
According to Coptic Church traditions, and also the presidential decree in 1957, the three finalists' names will be put in a draw and a blindfolded child will choose the name of the next pope.