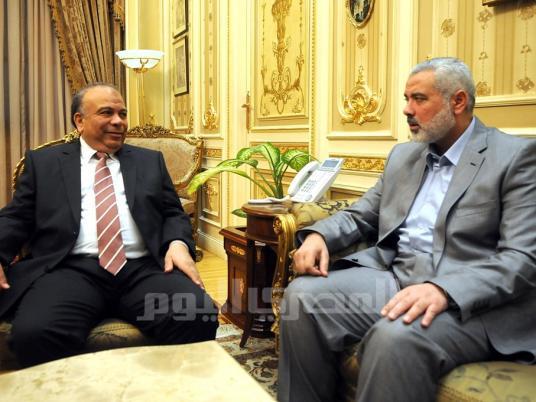 People's Assembly Speaker Saad al-Katatny held talks Thursday with Gaza Prime Minister Ismail Haniyeh in Cairo. It has not been announced what was discussed in the meeting, but observers expect that the talks had political dimensions.
Saad Hagras, editor of Al-Alam Al-Youm, a daily financial paper, said that the meeting was normal, as the speaker of Parliament can hold meetings with anyone.
He added that Hamas is an offshoot of the Muslim Brotherhood, so it is natural that the Hamas leader would extend congratulations to Katatny on the Freedom and Justice Party's victory in the parliamentary elections.
Hagras worried that the FJP-led Parliament will enact a foreign policy that represents Islamist interests rather than the interests of the entire Egyptian population.
"Parliament should play a role in making foreign policy without turning it into one party's policy," he said.
Political analyst and writer Salah Eissa agreed with Hagras's assessment of the meeting, saying, "Since Hamas is part of the Brotherhood, it expects to have greater support in Cairo with the Parliament under FJP control.
"Haniyeh's visit is about demonstrating to current and future governments that Hamas enjoys strong relations with the Brotherhood, and thus should receive support from the Egyptian government," Eissa told Al-Masry Al-Youm.
Eissa added that the meeting likely discussed the reconciliation between rival Palestinian groups Hamas and Fatah, speculating that Haniyeh may be seeking support from the Egyptian Parliament to enact certain demands from Fatah.
Translated from Al-Masry Al-Youm