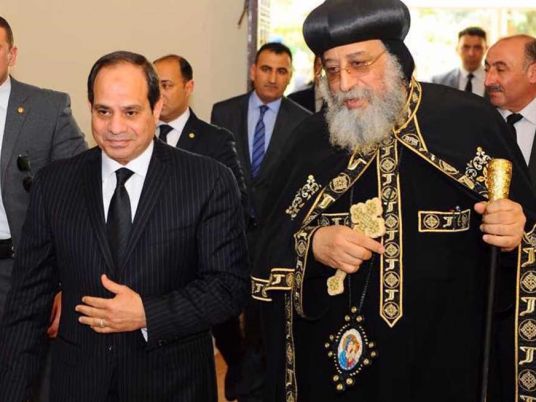 Pope Tawadros II of the Coptic Orthodox Church stressed that the world's attention will be focused on the turnout in Egypt's presidential election. He encouraged participation in the voting process although he expected "a candidate" to sweep a victory.
"It seems that a candidate will succeed in sweeping the next presidential election," he said.
The comments came at a sermon presented in Alexandria on Wednesday. "I appeal to every patriotic, honorable, sincere Egyptian national to not to deprive the homeland of [their] duty. Positive participation in the presidential election is a duty like a soldier's duty on the front[lines]."
The Pope called on the people of Egypt to participate positively in the upcoming presidential elections, to present a good example of the country before the world, calling on people not to listen to the lies and rumors that aim to weaken the determination of Egyptians.
"Presidential elections are an opportunity for political participation, the expression of views and the exercise of a national right as a member of society, regardless of one's choice whether they will choose either of the candidates or invalidate their vote," he said.
"For several years now, Egypt has been facing many difficulties." He continued, "despite difficulties, the homeland has started the building process four years ago. There have been difficult decisions for building the future," he said.
Edited translation from Al-Masry Al-Youm