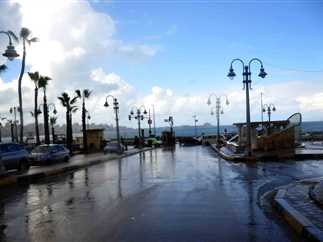 Egypt's unstable weather and noticeable drop in temperatures will reach its peak on Wednesday, according to the Egyptian Meteorological Authority which explained in a statement that the country is exposed to an air mass coming from Europe.

Bad weather also hit Lebanon and Syria as a result of the "Heba" storm this week,.
"Heba" will hit Lebanon, Turkey and Syria, and its impact will be air storms, snowfall and a significant drop in temperatures, the Director of the Weather Forecast Center at the Meteorological Authority, Mahmoud Shaheen said.
However he assured that the storm will not hit Egypt, though the country has been impacted by it regardless.

Speaking exclusively to Al-Masry Al-Youm, Shaheen explained that Egypt is under the effect of an air mass coming from areas that were exposed to the storm along the Mediterranean, which caused a drop in temperatures, especially at night.
Shaheen added that the temperature in Cairo throughout the time of the storm ranges between 12C and 13C during the day and between five degrees  and six degrees at night.
Active wind increases the coldness by two to three degrees.
Shaheen denied that the storm "Heba" will hit Egypt and there will be snowfall like in Lebanon.
He said Egypt is only exposed to medium and heavy rain that may be accompanied by hail, specifically along the northern coasts and northern Delta. The chance of rain in the governorates of Cairo and Lower Egypt are light to medium, he said.
Edited translation from Al-Masry Al-Youm