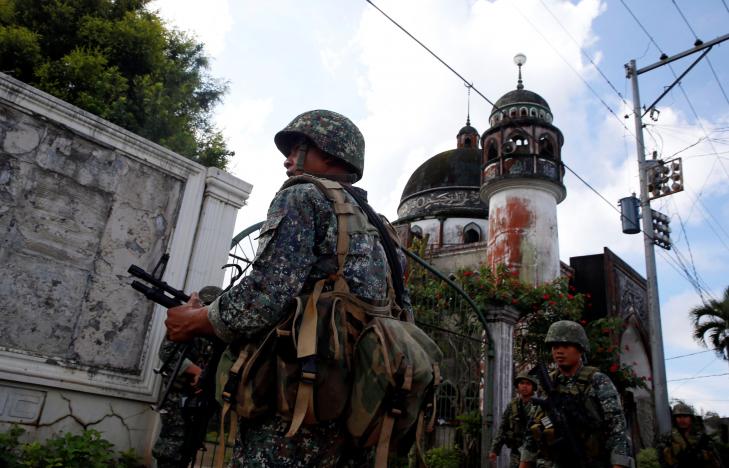 The Philippine military urged Islamist militants occupying a southern city to turn themselves in on Tuesday, the eighth day of a push by security forces using armored vehicles and firing rockets from helicopters to eliminate the gunmen.
The government says it is close to retaking Marawi from the Islamic State-linked Maute group, which seized parts of the city after a failed attempt by security forces to capture Isnilon Hapilon, the militants' so-called emir of Southeast Asia.
"We call on the remaining terrorists to surrender while there is an opportunity," a military spokesman, Brigadier-General Restituto Padilla, told reporters.
As helicopters circled the lakeside city where smoke billowed out of some buildings, troops cleared rebel positions amid explosions and automatic gunfire, moving house by house and street by street.
More than 100 people have been killed, most of them militants, according to the military, and most of the city's residents have fled.
A Catholic priest held captive by the militants with a dozen other civilians appealed to President Rodrigo Duterte to consider their plight and stop the military operation.
Father Teresito "Chito" Soganub, vicar general of Marawi City, and the others were abducted in a cathedral last week.
"We are asking your help to please give what your enemies are asking for," the priest said on a video clip shown on a Telegram channel used by Islamic State.
"We still want to live for another day, a month and a few years, please consider us Mr President," he said.
A politician involved in efforts to evacuate residents, Zia Alonto Adiong, said authorities had cleared 85 percent of the city but reclaiming the rest would be a challenge because they were dense urban areas with trapped civilians.
"There's an intensifying military operation that's going on," Adiong told a media briefing.
Though most people have left, thousands are stranded, worried they could be intercepted by militants if they tried to flee.
'Live Another Day'
Martin Thalmann, deputy head of delegation of the International Committee of the Red Cross (ICRC), said he tried, but failed to convince Islamic State affiliated insurgents and government forces to halt the violence so it can deliver aid.
"It's so intense, it's not possible," Thalmann told reporters, referring to the fighting.
"There's still a lot of people in there and of course it's a concern that they suffer under this shelling and we wonder if all the precautions are taken."
Air strikes were aimed at "specific targets of resistance to protect our troops and hasten clearing of the city", Padilla said, adding that "collateral damage" was being prevented.
The Maute's ability to fight for so long will add to fears that Islamic State's ideology is spreading in the southern Philippines and it could become a haven for militants from Southeast Asia and beyond.
Malaysians and Indonesians were among the rebels killed.
The government believes the Maute carried out their assault before the Muslim holy month of Ramadan to capture the attention of Islamic State and earn recognition as a regional affiliate.
In the video footage, the captured priest was standing on a deserted street with ruins around him and the sound of gunfire in the background.
"They simply are not asking for anything, just to withdraw your forces … and to stop the air strikes, your air attacks, and stop the cannons," Soganub said.
Marawi Bishop Edwin dela Pena confirmed to Reuters that it was Soganub in the video but declined to comment any further.
Soganub, wearing a black shirt and trousers, said the militants had the right to practice their faith and enforce Islamic laws in the city.
Padilla said the military was aware of the video.
"This is pure propaganda. The Maute group is using this to stop our clearing operations," Padilla said.
Padilla said he was confident the militants would not harm the priest because they wanted to use him to gain concessions.
Reporting by Tom Allard in Marawi; Additional reporting by Erik de Castro in Marawi and Manuel Mogato in Manila; Writing by Karen Lema; Editing by Robert Birsel