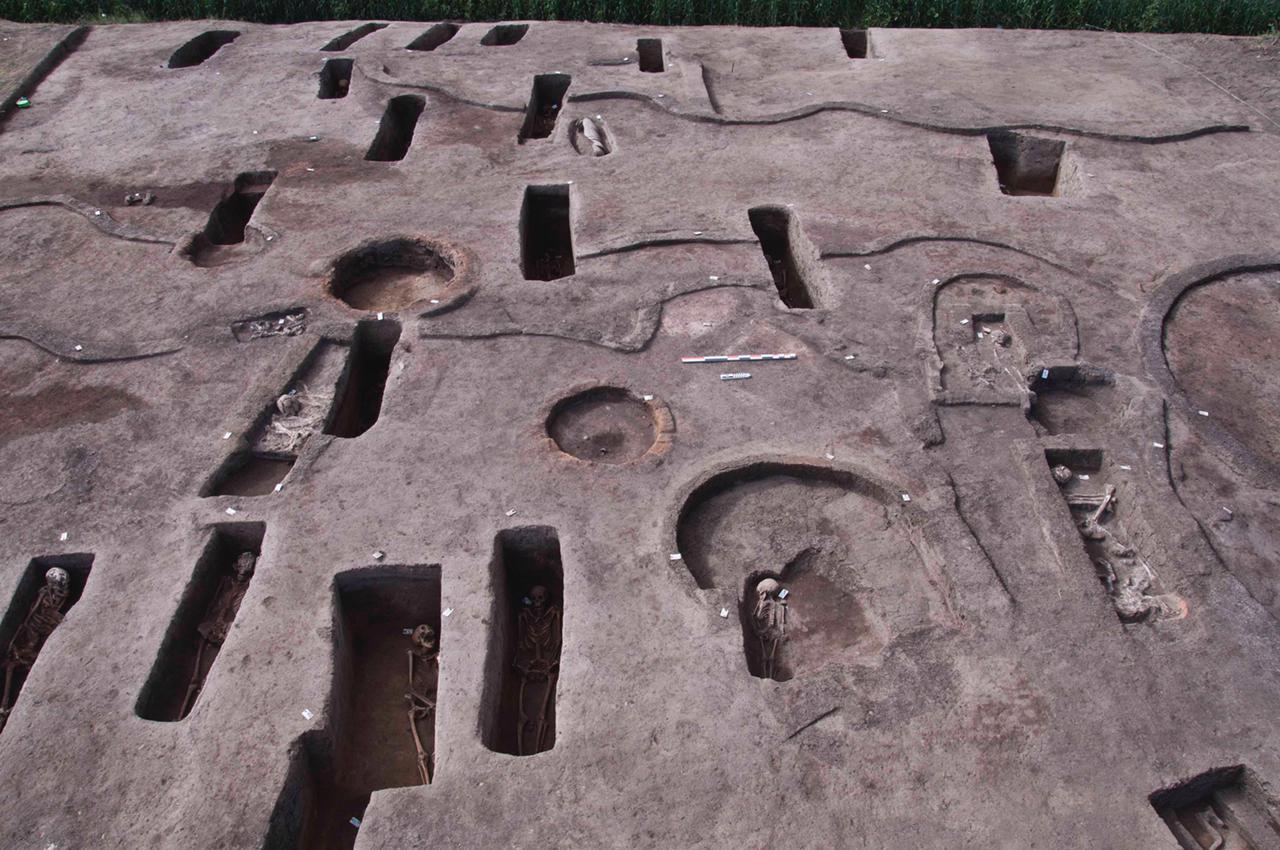 The archaeological mission working in Kom al-Khaljan archaeological site in Daqahliya Governorate has discovered 110 new tombs dating back to three different eras, Egypt's Ministry of Tourism and Antiquities announced.
Secretary General of the Supreme Council of Antiquities Mostafa Waziry called the discovery was an important historical and archaeological event.
He added that among the 110 discovered tombs, 68 date back to the civilization of Lower Egypt known as Bhutto 1 and 2, five are from the era of Naqada III, and 37 of them are from the era of Hyksos. Waziry pointed out that excavations were still ongoing in the area.
The tombs discovered from the Bhutto and Naqasa eras were described as oval-shaped pits cut in the island's sandy layer. They contain people buried in a squatting position, most of whom laid on their left side with their head pointing westward, according to Head of the Egyptian Antiquities Sector at the Supreme Council of Antiquities, Ayman Ashmawy.
The remains of a baby buried inside a pottery vase from the Bhutto 2 period was also found, he added.
Inside the Naqada area, the mission found cylindrical and triangular pots, kohl plates decorated with geometric drawings, and a small mass of skunk used for kohl saucers, he said.
According to Nadia Khedr, head of the Central Department of Lower Egypt Antiquities, of the 37 tombs from the Hyksos period, 31 were semi-rectangular pits ranging in depths between 20 cm and 85 cm. All were buried in an extended position with the heads pointing westward and facing upward.
Another pottery coffin for a child was found, along with two brick tombs in rectangular shape with children's burials and some funerary items, including a small pottery vase and silver rings, she mentioned.
The mission also discovered a collection of ovens, stoves, remnants of brick buildings, crockery, and amulets, some of which were made of semi-precious stones and ornaments such as earrings.