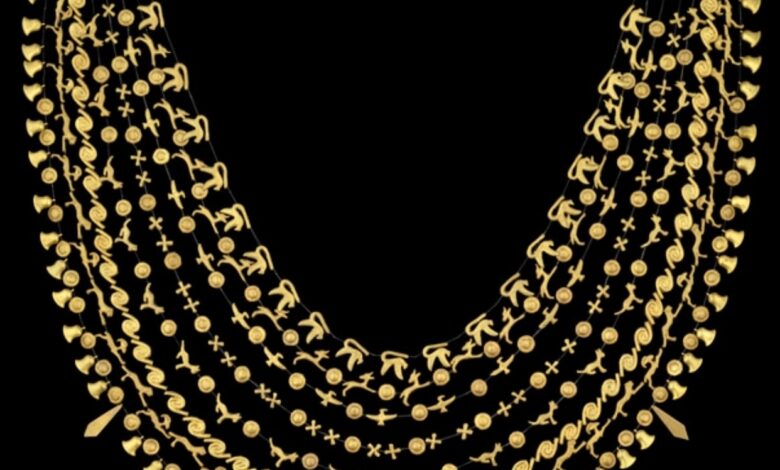 The Egyptian Museum in Tahrir held an exhibition of a group of jewels and ornaments of Queen Ahhotep, the mother of King Ahmose the expeller of Hyksos, from the 18th Dynasty.
The sarcophagus of a lady named Isis-weret from the era of the 26th Dynasty, which is displayed for the first time.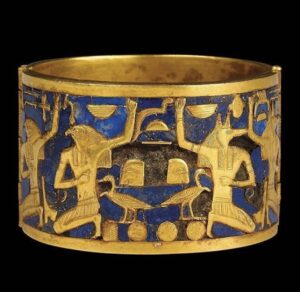 The general director of the museum, Sabah Abdel-Razek, said that the Queen Ahhotep's jewelry collection, includes a broad necklace of gold, the end of which is decorated with a falcon's head, and a chain of gold with a scarab inlaid with lapis lazuli, which is one of the most beautiful pieces of jewelry from the beginning of the 18th Dynasty.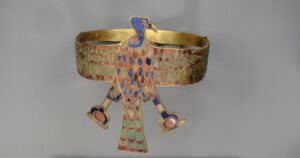 There is also a variety of bracelets made of gold inlaid with, lapis lazuli, agate, turquoise, colored glass, and other bracelets made of gold beads and semi-precious stones.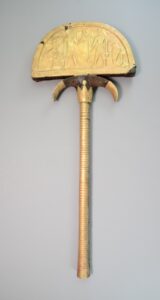 The pieces also include a mirror made of gold and bronze with a handle of cedar wood inlaid with gold, and a hand fan made of wood covered with gold and on it are scenes worshiping King Kamose.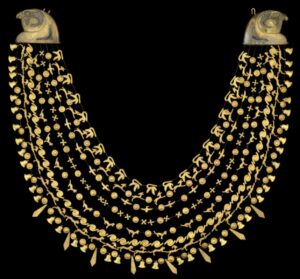 Abdel-Razek said that the exhibited pieces date back to the beginning of the New Kingdom, around 1550 B.C., and were found by archaeologist Auguste Mariette in the tomb of Queen Ahhotep in Dra' Abu el-Naga area in Luxor in 1859.
Queen Ahhotep was the wife of King Seqenenre Tao II, a historical figure who led a war of liberation against the Hyksos, and the mother of kings Kamose and Ahmose.
The latter successfully expelled the Hyksos from Egypt and established the 18th Dynasty.