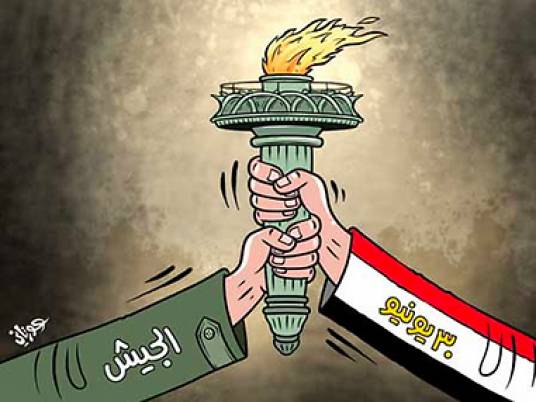 Most Arab cartoonists praised the historic toppling of Muslim Brotherhood President Mohamed Morsy, portraying him as a tyrant and dictator. The first freely-elected president in Egypt was overthrown by the army. Most Arab leaders, especially in the Gulf, were happy that Morsy was overthrown. Tunisia and Turkey were among a minority of countries to denounce Morsy's overthrow as a coup.

The Jordanian newspaper Al-Arab Al-Youm portrayed former president Hosni Mubarak riding a donkey and Morsy riding behind him. The donkey is holding a small paper that says "leave."
Al-Watan newspaper features a cartoon depicting the armed forces and the 30 June protestors as holding the same torch, sending the message that the army stood with the people.
In the Lebanese An-Nahar newspaper, this caricature depicts large crowds and a book that features on one page former President Hosni Mubarak and on the next Mohamed Morsy. Its caption reads, "Egypt: a new page."
In Al Khaleej newpaper, Morsy is shown carrying a pistol in one hand and matches in the other, symbolizing his desire to ignite the situation. The caption reads, "I stick to legitimacy."
From Al-Masy Al-Youm
From Al Bayan